Kim Kardashian gets $1 million for every year she stays married to Kanye…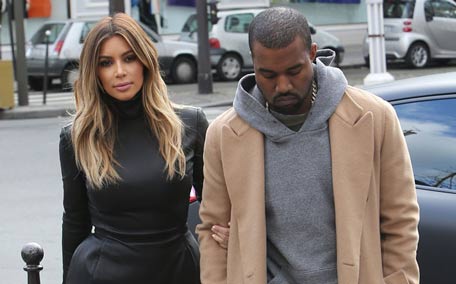 Kim Kardashian and Kanye West have signed a prenuptial agreement, which will see her get $1 million for every year she stays married to the rapper up to $10 million.
Kim Kardashian will get $1 million for every year she stays married to Kanye West.
The couple have signed a prenuptial agreement ahead of their forthcoming wedding this spring, in which Kanye has been very generous toward his future spouse.
A source told RadarOnline.com: "The entire process for the prenup for Kim and Kanye has been extremely easy, and relatively drama free.
"Kanye didn't even think the couple needed a prenup, and was ready to give Kim carte blanche to all of his financial assets. Yes, he loves Kim that much."
The source adds drawing up the document was much easier than the last time Kim, 33, married, to basketball player Kris Humphries, in 2011, a union which lasted just 72 days.
The source added: "There is a huge difference from Kim's prenup with Kris Humphries ... the preparation of their agreement went on for several months. It was long and tedious."
The agreement states Kim will get $1 million a year for as long as she stays married, with a cap at ten years. Should they divorce she would keep all gifts given to her by 'New Slaves' rapper Kanye. The couple's still incomplete Bel Air mansion will also be in Kim's name, even though Kanye has paid for the majority of it, and she will also benefit from one of Kanye's life insurance policies, valued at $20 million, even in the event of a divorce.
According to estimates Kanye is worth $100 million, while Kim - who was also married to Damon Thomas from 2000 to 2004 - has a personal fortune of around $40 million from her clothing line and promotional appearances.
No custody arrangements for their eight-month-old daughter, North, are included in the prenuptial document.
The insider added: "The couple are focused on the wedding and looking forward to spending the rest of their lives together. Kim is head over heels in love with Kanye, and knows this is forever. Despite having been married twice before, Kim is treating this wedding as her one and only."

Follow Emirates 24|7 on Google News.