Led by Mohanlal, new investors take over UAE-based Radio Me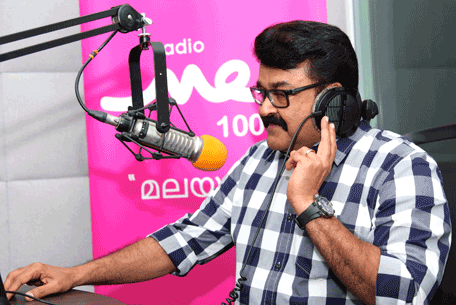 South Indian superstar Bharath Mohanlal has become the Chairman Emeritus and a member of board of directors of UAE's two-year-old Malayalam radio station Radio Me and will also host a programme called Mind Blogging on 100.3 FM station.
Manju Warrier, wife of superstar Dileep and Indian film actress known for her work in Malayalam cinema, will also be hosting a separate programme on the radio from Dubai, said Girish Menon, new Chief Executive Officer of Radio Me.
However, there have also been rumours of a new group of investors taking over the radio station and reshuffling the senior management. The new management's decision to rope in Mohanlal and Maju Warrier are part of the radio station's efforts to improve its popularity and fan base among the UAE-based Keralites.
A source at Radio ME said Mohanlal's position as Chairman Emeritus will be formally announced after completing the legal formalities, but the Malayalam superstar will start presenting a programme, Mindblogging, based on his personal blog soon.
New CEO Menon said MB Sanil Kumar, a consultant, is overseeing restructuring of the radio station and its programmes.
Kumar, who himself is a renowned musician, will be presenting a musical programme besides his role as re-engineering expert for the radio station, Girish told Emirates 24l7.
Sanil Kumar has already presented around hundred episodes of Pattinte Palazhi, a musical programme on Hit 96.7, a popular Malayalam station with Jean Markos and in All India Radio. He will be presenting a music show at Radio Me.
Radio Me, the second FM Malayalam station started by a group of investors and radio professionals, is undergoing senior level management reshuffle and Mohanlal has been inducted in the board along with a few others, who have put in their resources for the young radio station.
While there have been rumours of management change and takeover bids, the Radio Station officials refused to comment; but the role of Mohanlal is revealed through advertisements and public announcements.
The superstar is appealing to the radio listeners that he will be part of the Radio Me team and will take the radio station to the next level, after it successfully completed 100 weeks of operation.
Radio Me is the first time that a radio station to rope in a celebrity like Mohanlal as the brand ambassador. Earlier Kairali TV, a popular Malayalam television channel, had roped in Bharat Mammootty as its Chairman of the Board of Directors and it seems Radio Me is now repeating the same exercise to make the radio station more popular.
While some senior level reshuffle happened recently, the head of programme, Kris Iyer, another celebrity asset of Radio Me and Girish Menon, Head of Station, have retained their positions and Girish has become the new Chief Executive Officer of Radio Me.
On Wednesday, Mohanlal made a surprise visit to the radio station's head office and studio in the Studio City and everyone was happy to see the celebrity in the office. The two-year-old radio station is currently running a series of advertisements through the radio with the superstar assuring the Keralite community that he would be fully involved with Radio Me and he will be the chief guest for the second anniversary party planned at the Oberoi Hotel Dubai, Girish Menon, told Emirates 24|7.
"He will be our Chairman Emiratus, something more than a brand ambassador. There will be a few announcements as part of the phase two of Radio Me. We will be announcing new set of programmes and Mohanlal will be part and parcel of Radio Me Family," said a source in Radio Me.
Follow Emirates 24|7 on Google News.