Rihanna tweets her Tupac Shakur tattoo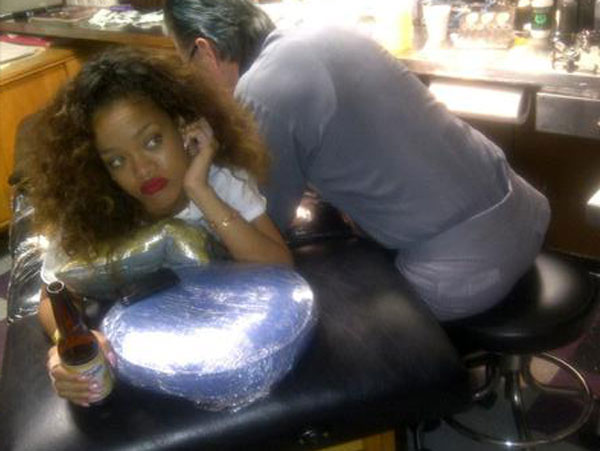 Rihanna, who is reported to have at least 14 tattoos, may have added two more to her collection last night with a visit to tattoo artist Mark Mahoney.
The "You Da One" singer took to Twitter to document the process, which she referred to as "#TATnight."

"My boo Mark Mahoney!!!! #Rockstar[Bleep] #TATnight," Rihanna wrote, captioning a photo of herself embracing her trusted tatoo artist. The singer wore a leather jacket and her sunglases indoors.

"All these [bleeps] screaming that 2pac back ♫ #THUGLIFE," Rihanna tweeted, unveiling her first tattoo. In the image, Rihanna proudly displays her fists, the words "Thug Life" etched across her knuckles in pink. The words are an ode to rapper Tupac Shakur, who had them tattooed on his stomach. Shakur was killed in 1996, when Rihanna was just 8 years old.
Rihanna seemed highly pleased with the work. She wrote, "I #LOVE my new tattoo!!! Can't wait for yall to see it!!! I got it in "Tibetan" this time!!! #approved." She appeared to be referring to the font.

But while she didn't show the final result, it appears that Rihanna may have gotten a second tattoo as well. In another photo the singer posted, she lies on her stomach as Mahoney works on her back. She has a pained look on her face and clutches a beer.

Rihanna has received criticism today for tying herself to gangster culture through her new "Thug Life" tattoo. But the singer defends her actions.

"Err'body has an opinion, but yall know what yall can do with them!!!" Rihanna tweeted, before referencing another tattoo convention, which denotes having been in prison. "I'm thinking I shoulda got a tear drop instead. Maybe next time."
Follow Emirates 24|7 on Google News.