Ritesh reveals all about his marriage with Genelia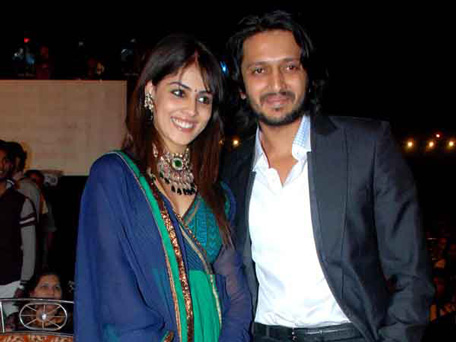 Unlike the character he plays onscreen, actor Ritesh Deshmukh is a tough nut to crack in real life. Sample of this is his love life.
The actor has been in a relationship with Genelia D'Souza for quite some time, and yet in spite all rumours maintained a stiff lip. But now with their wedding day inching by, the actor finally decides to bare it all as we corner him amidst the hurly burly of his wedding preparation and the promotional event for his next release 'Tere Naal Love Ho Gaya'.
What did we speak about? Of course love and the leading lady in his life – both on reel and in real life.
One thing I like about Genelia
It is very difficult to pick that one thing I like about Genelia. I like her in entirety (smiles). But if you insist, with the wedding preparation and the film's release going on simultaneously, the one thing that I liked in Genelia is her energy. She is so vibrant and is always game for something, even on a tiring day.
Last few days of being a bachelor
Being together for so many years, I do not fear losing any kind of freedom as such. We know each other well. Trust is important for any relationship to sustain and I am glad that we continued our relationship with dignity. I am happy that we could maintain our privacy. We are so used to each other now that we know exactly what one's likes and dislikes are. This is the right time for us to disclose our relationship and taking our commitment a step further by solemnising it into marriage. I know either of us has no fear losing our independence or singlehood.
Marriage for me
I truly believe in the institution of marriage. Only because of this institution families have bonded together. I feel holding all your near and dear ones close to you is essential in this era of stressed life. Family, friends and relatives always come to your rescue, whenever the need arises. I feel if you find a person you love, it must be for a lifetime. Sadly though today most people are running away from this very institution and not giving love as much time as they should.
On finally finding his lady love
Surprisingly, I never had any such notion nor felt the need to think that she is the one. I always felt happy in her company. Strangely enough, both of us came close in the process of being together. Being away from each other at times made us feel the vacuum. I never had to realise anything, she was always there.
Working together after eight years
Being in a relationship has definitely made me more conscious working with her. I still remember on our first few days of shoot together for "Tere Naal Love Ho Gaya', it took us sometime before we were comfortable showing our emotion in front of the camera. Yes, we had worked together in our first film, but then we were newcomers and were learning the art of acting and filmmaking. Thereafter, there was no chance that we could be paired together onscreen. While Genelia worked in South under various directors, I worked in Hindi films. This was the first time in eight years that we were offered a film together.
Genelia, the co-star and actor
Everyone improves after doing a few films and Genelia is no exception. She had shown her calibre in our first film together, but now she has turned to be a far better actor. She can now handle the role differently. There is a stark difference in her performance between then and now, so much so that I had to be on my toes to match her exuberance on screen. Every day I'd decide that this time I would do this particular scene better than her but Genelia always managed to surprise me.
Playing a female in the films
I realised one thing that doing a female's role is not an easy task. It leads to a constant struggle of thoughts. One was my feelings as a guy and the other was what you felt while your body was being waxed and threaded. It's a feeling I still find hard to put in words (laughs aloud).
On 'Tere Naal Love Ho Gaya'
It is a love story, so there are no actions, just reactions, in the entire film. All I had to do was to react to Genelia's surprises and the film was made.
Follow Emirates 24|7 on Google News.