Salman Khan says sorry; retracts tweets supporting Memon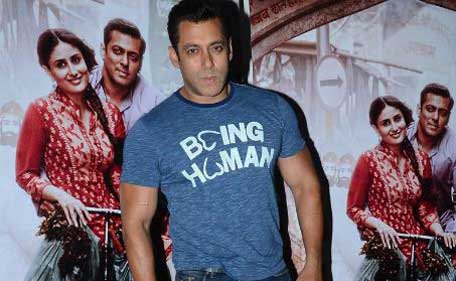 Bollywood's superstar Salman Khan on Sunday urged India's top court to consider sparing the life of a convicted bomb plotter due to be hanged this week.
The Supreme Court is expected on Monday to hear a last-ditch appeal from Yakub Memon, a key plotter of a series of bomb attacks that killed hundreds in Mumbai two decades ago.
The court had last week rejected a final appeal from Memon, paving the way for his execution on Thursday after more than two decades in jail.
Salman, who himself convicted in May of a deadly hit-and-run accident, described Memon as innocent.
"One innocent man killed is killing the humanity," Khan said on Twitter where he has 13.1 million followers.
"Get Tiger, hang him. Parade him not his brother," Khan said referring to Memon's brother Tiger, who police say masterminded the attacks and is still on the run.
This comment by the actor didn't go down well with his countrymen. Twitter users sent out a flurry of posts criticising Salman's views. Top politicians, lawyers disapproved of his comment.
Security was tightened outside Salman's residence in Mumbai.
Superstar's father, screenwriter Salim Khan, sought to play down his comments.
Talking to Indian news channel Times Now, Salim Khan, Salman's father, said that the tweets does not mean anything, "Whatever Salman has written is totally meaningless. I do not support it. His tweets are wrong."
In the wake of strong criticism Salman retracted his tweets on Yakub and tendered an unconditional apology for causing misunderstanding. He said he was retracting tweets after his father spoke to him. He said he was not saying Yakub Memon was innocent.


In about half a dozen tweets posted early on Sunday, Salman said mob boss Tiger Memon should hang instead of Yakub Memon for the bombings. He also asked Pakistan Prime Minister Nawaz Sharif to confirm whether Tiger Memon is in his country.

Salman lashed out at Tiger Memon, who has been absconding since the blasts that killed 257 people and injured 1,400 more.
1993 blast:
Eleven people have been convicted over the 1993 attacks, the deadliest in India's history.
The Bombay Stock Exchange, the offices of Air India and a luxury hotel were among the targets of the March 1993 blasts, which killed 257 people in India's commercial capital.
The attacks were believed to have been staged by Mumbai's Muslim-dominated underworld in retaliation for anti-Muslim violence that killed more than 1,000 people.
Former Supreme Court judge Harjit Singh Bedi said the court should take notice of reports Memon had cooperated with investigators and returned voluntarily from Pakistan where he fled after the blasts.
In a letter in the Sunday Express newspaper, Bedi said the court should examine whether these count as mitigating circumstances and refer the case back to the trial court for consideration.
Memon's wife Rahin pleaded with the judiciary to commute her husband's death sentence to life in prison.
"I have full faith in the judiciary. I ask for pardon from the government of India for Yakub so his death sentence can be commuted," Rahin told the NDTV news network.
Follow Emirates 24|7 on Google News.