Serena Williams writes letter to unborn child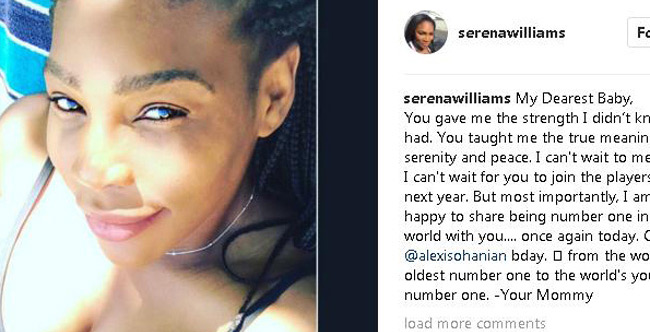 Tennis player Serena Williams has written a letter to her unborn child describing the experience.
The 35-year-old tennis player revealed last week she is expecting her first child with fiance Alexis Ohanian and has now written an open letter to the unborn tot to mark both her partner's birthday and returning to number one in the Women's Tennis Association (WTA) rankings.
She wrote on Instagram: "My Dearest Baby, you gave me the strength I didn't know I had.
"You taught me the true meaning of serenity and peace. I can't wait to meet you.
"I can't wait for you to join the players box next year. But most importantly, I am so happy to share being number one in the world with you once again today. On [Alexis Ohanian's] bday.
"From the world's oldest number one to the world's youngest number one.
"Your Mommy."
Serena - who got engaged to Alexis in December last year after 15 months together - revealed she was pregnant last week on Snapchat showing her wearing a swimsuit and a caption reading "20 weeks" but the picture was later deleted.
However, her team confirmed she was pregnant in a statement which read: "I'm happy to confirm Serena is expecting a baby this fall."
Serena previously revealed she wants to have children "some day" but still feels like she is too young.
She explained: "I definitely want to have kids one day. That's something I've always wanted since as long as I could remember. And the older I get, the more I'm like, 'I'm too young!'"
And speaking about her legacy, she said: "I never thought about leaving a tennis legacy. I always thought about leaving a legacy of fulfillment, living out your dreams, and giving back.
I'm proud to have opened [two] schools in Africa and one in Jamaica [through the Serena Williams Fund and its partners]. I was given a lot. I was given two parents.
That's already starting above a lot of kids. And then I was given the opportunity to play tennis and parents who supported that. I feel I can give back."
Follow Emirates 24|7 on Google News.