Valentine's Twitter love: Obamas cute; Mariah Carey naughty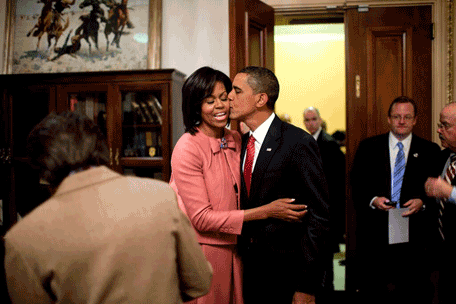 The Obamas played out their Valentine's love affair on Twitter.
Rather than it just be about the love between two people, as is expected the exchange went under the microscope - and Michelle Obama came out on top.
Mariah Carey shared her love for Nick Cannon on Instagram but she did not need Nick nor anyone else to use a microscope.
Michelle Obama tweeted her message with this pic. (Michelle Obama @ Twitter)
A naughty picture of her in underwear made from candy well, said it all.
Barack Obama tweeted: Here's the truth: @MichelleObama is still the best Valentine. pic.twitter.com/Qx8T4Izxqs
Mrs Obama then sent her message to her husband and distinguished it from those written by her team by signing her initials at the end.
'Hey Barack, I'll always be your valentine! #HappyValentinesDay -mo,' she wrote.
Mariah Carey posted a series of pictures on Instagram. (Mariah carey @ Instagram)
She attached a collage of the couple sharing a light moment and Obama posted a picture of him kissing her on the cheek.
The media jury ruled that Obama's Valentine tweet didn't have a 'personal' sign off, unlike Michelle's.
No personal sign off was needed for Ms Carey though who's raunchy display for V-Day set hearts a-flutter, and not just Nick Cannon's.
Carey does pull off that innocent sexy look better than almost anybody, though.
Follow Emirates 24|7 on Google News.