Varun Dhawan quits Twitter after being trolled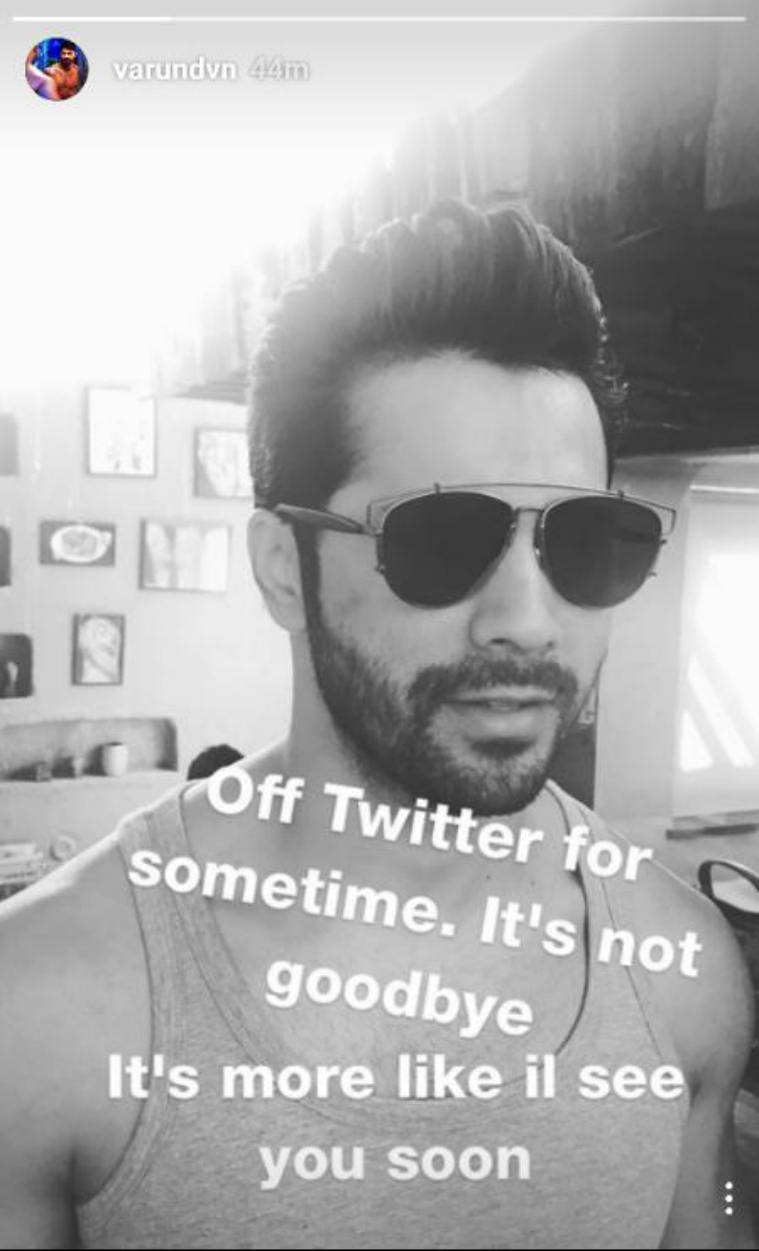 Varun Dhawan is yet another actor has become a Twitter Quitter. Well, Varun was very active on this social media platform for a while. But then, after a molestation scene in his recently released film Badrinath Ki Dulhaniya came in for flak, Varun was trolled and abused by many on the microblogging platform.
The film had a scene where the character played by Varun called Badri is surrounded by some goons in Singapore. One felt that they had come to rob him. But they tear his clothes and molest him. A scene of a man being molested perhaps made some cringe but for the ones who wanted fun at Varun's expense it was a good enough reason for them to make fun of him on Twitter.
Even though the scene was presented in a humorous way, many felt that a man being molested cannot be humour and what if the same had been done to a woman in a humours way!
"Out of 10, if two don't like something, that doesn't count as mass opinion. People who felt that way are entitled to their opinion," was Varun's refrain to the controversy.
And after his last Twitter post on April 3 where he announced three years of Main Tera Hero, his first film for dad David Dhawan, Varun has logged off.
And he made the announcement on another social media platform Instagram where he put a picture with these words scribbled on it. "Off Twitter for some time. It's not goodbye. It's more like I'll see you soon."
Varun joins Ranbir Kapoor who quit Twitter after being trolled. His father Rishi Kapoor too almost quit the platform, but now gives it back to all those who abuse him. Salman Khan too once quit the platform and went off it for a while after he made some comments on the 26/11 attacks in Mumbai in September 2010. Salman was under attack for telling a Pakistani channel that the 26/11 attacks were hyped because "elite people" were targeted.
Salman again threatened to quit Twitter if his fans did not stop abusing his once arch enemy Shah Rukh Khan.
Shah Rukh too took a break from Twitter when he was trolled in May 2011. He again reiterated this three years later when he went dormant. Even Superstar Amitabh Bachchan threatened to quit both Twitter and Tumblr once because there were some issues in his accounts and he said he would quit if they were not rectified. "Distraught to read comments on malfunction on Twitter and tumblr. blog … sent warning to concerned - rectify or I go elsewhere !!" Big B had tweeted.
Pulkit Samrat, who was being considered as one of the young Turks in Bollywood also left Twitter when followers thrashed him for having an alleged affair with co-star Yami Gautam despite having been recently married to Shweta Rohira. Shweta dn Pulkit have now separated.
Interestingly the Creative Director of Kapil Sharma's show Preeti Simoes, who was once linked to him, also deactivated her account late April after being trolled for being the reason for leaking the Kapil-Sunil Grover fracas to the media.She was abused by kapil fans for being jealous of Kapil's girlfriend Ginni Chatrath.
Internationally Miley Cyrus, Adele, Amanda Bynes, Lilly Allen, Stephen Fry, Finn Jones, James Woods are some celebrities who needed some air between them and their fans and stopped tweeting.
Follow Emirates 24|7 on Google News.