Victoria Beckham always raids David Beckham's wardrobe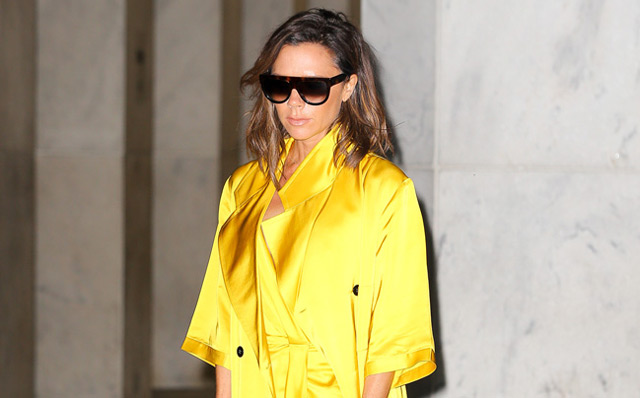 Victoria Beckham steals "so much" of husband David Beckham's clothes, although she may have to "tweak" his garments to fit her petite frame.
The 42-year-old fashion designer has admitted she is regularly borrowing garments from her 41-year-old spouse, although she does ask permission before she takes an item and "tweaks it" to suit her if the former England football captain is away working.
When asked if she ever raids the sportsman's wardrobe, the brunette beauty said: "I steal so much of his stuff. He was away the other and I phoned him and said 'You know, I've just found this trouser hanging up in your wardrobe. Is it ok if I take it and tweak it a little bit?' I love wearing his clothes."
The former Spice girls band member - who was known as Posh Spice in the girl group - has advised her children, Brooklyn, 18, Romeo, 14, Cruz, 12 and five-year-old daughter Harper, to be "individual" and to dress how they want to.
She explained: "To be individual, that's the thing. They all have their own style and they all like different things. They have individual style. They pay attention to what they're wearing.
When I took Harper to get her little outfit, she likes to walk around checking herself out in the mirror. She is very feminine, she loves to wear pretty dresses and pretty skirts, but she has got three older brothers so she's a little bit of a tomboy as well. She's tough, she is a really strong little girl."
And Victoria has admitted her style has evolved over time, and although she used to wear vibrant outfits and high heels her guilty pleasure is a more laid back ensemble.
She told Instyle.co.uk: "[My guilty pleasure] would probably be my tracksuit bottoms
"I started off in a heel and a bit of colour and now we end up in tracksuit bottoms, but it was ok as I had a man's tailor coat. "
Follow Emirates 24|7 on Google News.