Where love began: Pic that brought Kareena and Saif together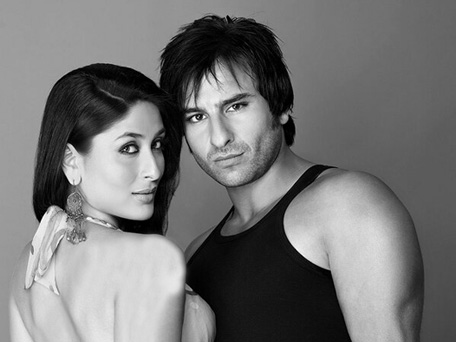 We are here to bust some fiction or rather doctored truth...
After a long courtship Bollywood couple Saif Ali Khan and Kareena Kapoor finally got married last year.
What we all know is that Saif Ali Khan and Kareena Kapoor fell for each other during the shooting of 'Tashan' 2008.
But hold on, according to insiders their love-story did not start with 'Tashan'.
Ace Bollywood photographer who captured their first photograph together tweeted a picture taken in 2005 and wrote, "This is where it all started".
So we wonder what's the truth.
Reports of affair between Kareena Kapoor and Saif Ali Khan first surfaced when the two were shooting for Yash Raj Films 'Tashan' in Ladakh and Rajasthan.
Tashan was a flop, but it is still actor Saif Ali Khan's favourite film because it brought girlfriend Kareena Kapoor into his life.
Then came the news that Kareena celebrated her 27th birthday with Saif Ali Khan.
However, Saif and Kareena did not accept their relation then. Saif later admitted in a fashion show event that he is dating Kareena Kapoor.
The day when Saif accepted his relation with Kareena, he told the media, "For the time being all I am comfortable with saying is that we are together. Kareena and I are here and are happy with each other, we are not exactly shouting from the rooftops."
The couple tied the knot in elaborate wedding celebrations on October 16 after a five-year relationship. But nothing has changed for her post-marriage.
(Twitter)
Even though Saif Ali Khan and Kareena Kapoor were in a live-in relationship for quite some time and marriage has been a natural progression for them, the new bride still continues to gush over her hubby like a besotted girl in a new relationship.

"God has been very kind to me. I am lucky to have found this man who is so modern, so liberated. He's much more intelligent than me. I like the fact that he is so well read and that I can count on him for everything," she said.
(Twitter)
Talking about her life post marriage, Kareena Kapoor told a daily, "I don't think anything has changed. If you are in love and you are happy, then that's all that matters.
"I believe in the institution of marriage and it's like a tag to cement the relationship for your friends, family and public. And it is a celebration of the fact that Saif and I are in love and we want to spend our life together."
Follow Emirates 24|7 on Google News.