Will Uday Chopra, Nargis Fakhri break up because of Rani Mukerji?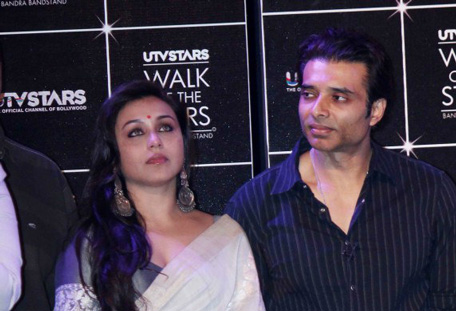 According to Bollywood sources Rani Mukerji is believed to be the one calling the shots at Yash Raj Films.
It is known that ever since Rani has been dating Aditya Chopra, the head honcho of YRF Films, she is one of the most feared people.
She is believed to be one of the key decision makers in the YRF camp but it looks like Rani is extending her territory.
As rumours are getting stronger day by day about Uday Chopra and Nargis Fakhri being serious about their relationship, we hear that someone is not giving her approval. Yes, it is Rani Mukerji.
Hmmm that's quite a breach of territory!
According to an Indian lifestyle website, Uday and Nargis are planning on tying the knot soon, but Rani is completely against it.
Rani feels Nargis has some ulterior motive. Nargis will leave Uday eventually, since she's only using him for his position and money.
Her dislike for Nargis is very evident to people present in the studio. Whenever Nargis pays her visit to Uday in YRF, Rani makes sure she doesn't cross her path.
But when Rani did run into Nargis one day, she gave her a cold shoulder to get the message across loud and clear.
How caring is Uday Chopra's would-be-sister-in-law or is she already one? Well, veteran actor Shatrughan Sinha knows it all.
During the star-studded event of the Yash Chopra statue unveiling, Shatrughan Sinha was heard referring to Rani Mukerji with the 'Chopra' surname. There was gasp from the audience.
Yash Raj Films issued an emergency statement (obviously on Rani's behest).

In what can only be described as a very panicky action, the production house's PR department must have gone on overdrive. The statement tried to clarify on behalf of Sinha saying it was completely unintended and a slip of the tongue.
But Sinha came out saying he is unapologetic about his statement and stands by what he said.
One wonders if this obvious unease about the slip of the tongue (intentional or unintentional) could suggest that there really is more to the comment than meets the eye.
However, coming back to Uday and Nargis, it seems Rani is pushing the envelope little too much interfering in someone else' love-life.
MUST READ:
Nach Baliye 5: Shilpa Shetty, Govinda to rock the dance floor
When Amitabh Bachchan bowed down to crying Kareena Kapoor…
Salman Khan goes 'Mental' in Dubai; catch him if you can
Follow Emirates 24|7 on Google News.