Zayn Malik: I always want Gigi Hadid by my side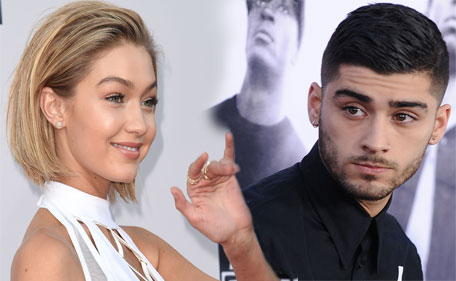 Zayn Malik says his girlfriend Gigi Hadid is the one person he wants by his side, as well as their dogs and "sometimes" his mother.
The 24-year-old singer struck up a relationship with the model over a year ago, and their relationship has been going from strength to strength ever since.
Now, in a new video released as part of the 'Pillowtalk' hitmaker's Versus Versace campaign, the hunky musician has shown his love for the 21-year-old model yet again.
The video - which is part of a series of short clips in which he blonde beauty interviews her boyfriend - was posted to Versace's Twitter page and features one simple question.
Gigi asked: "When you're alone, who do you want next to you?"
Without hesitation, Zayn replied: "You."
Gigi, off camera, appears shy after she pauses before adding "Thank you baby", to which Zayn - who was formerly engaged to Little Mix singer Perrie Edwards - then elaborates further.
The former One Direction singer said: "And our dogs, and sometimes my mum, she cooks some good food. And family members in general, yeah, I love you all."
Meanwhile, Gigi recently opened up about she met the 'I Don't Want to Live Forever' singer, admitting that despite trying not to give too much away on their first date, she struggled to keep it together as the pair "connected really quickly".
She said: "We actually met at a friend's birthday party a few years ago. Then, he was in New York to come to the Victoria's Secret show... and ended up not coming.
"I was like, 'I'll play it cool, I'll go to the after party.' He wasn't there. And then later that week, we ended up going on our first date.
"We played it cool for like ten minutes, and then I was like, 'You're really cute.' We connected, like, really quickly."
These days, Gigi and Zayn like to keep their evenings fairly casual, as she's always so tired from all the travelling around the world for her job.
She said: "When I'm in Los Angeles I mostly stay in because it's my time off and I like being with my boyfriend and doing art and cooking.
"We like late-night movies and we order from this amazing place that does lattes and gingerbread cookies. I need coffee to stay up.
"I'm always like, 'Babe, let's go to a movie.' Then I fall asleep halfway through and he's like, 'You've seen the first half of every movie out there and you have no idea how any of them end.'"
Follow Emirates 24|7 on Google News.