Celine Dion greets mourners at husband's wake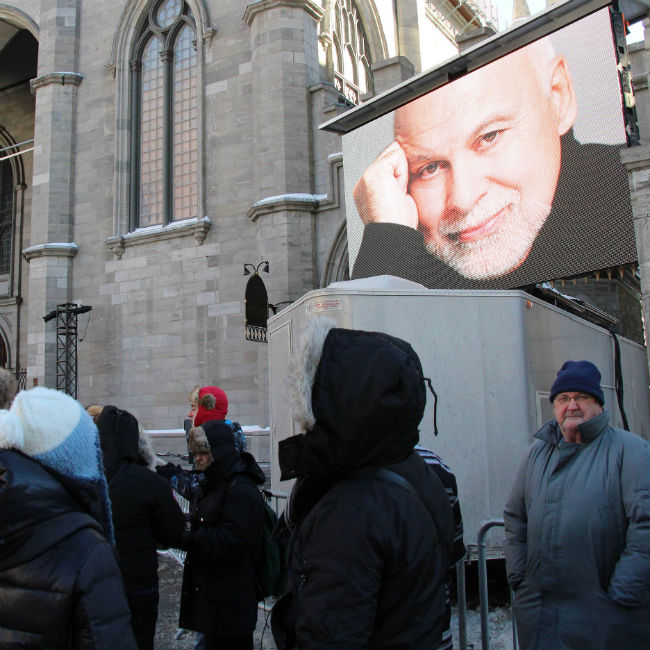 Celine Dion tearfully greeted mourners at the open casket wake of her late husband René Angélil in Montreal, Canada, on Thursday.
The 47-year-old singer struggled to hold back her tears as she stood by René Angélil's open casket inside the Notre Dame Basilica in Montreal, Canada.
Wearing a black gown and net veil, Celine was comforted by her mother Thérèse and her eldest son Rene-Charles, 14, as she watched hundreds of relatives, politicians and fans pay their last respects to René.
She was seen dabbing her eyes at points with a tissue as the wake proved somewhat overwhelming.
Guests attend the Public Memorial Service for Celine Dion's Husband Rene Angelil at Notre-Dame Basilica. (AFP/Getty)
At one point, when she was left alone with the casket, Celine was seen tenderly placing her hands on her spouse's body as she bid him goodbye.
Mourners at the wake were greeted by a huge portrait of René on a large screen outside the cathedral.
René will be laid to rest in a state funeral that will be held at the venue on Friday, and the service will also be streamed live worldwide.
After René's death, following a lengthy battle with throat cancer, Celine took to her Facebook page to post a touching tribute to her husband and manager.
She wrote: "He will be remembered as a gentleman, generous and kind, an unprecedented visionary, a modern Pygmalion, a Renaissance man.
"All who had the privilege of knowing him and of working closely with him, whether personally or professionally, salute a leader and a man of great intelligence and wisdom."
Follow Emirates 24|7 on Google News.