Chilly weather greets celebrities in Dallas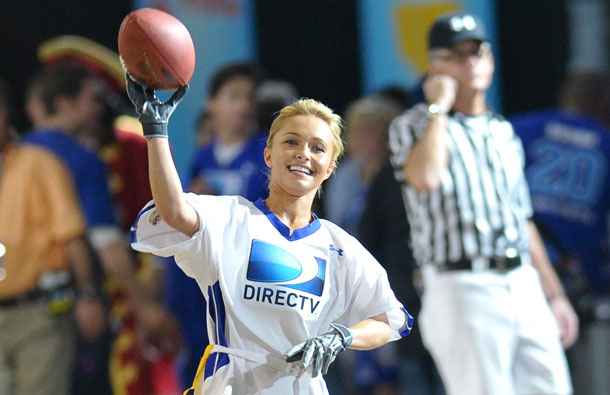 New York Giants quarterback Eli Manning expects all the talk about Dallas' chilly weather to be old news come Super Bowl Sunday.
Temperatures were mostly hovering in the 40s when Manning and other celebrities hit the sand Saturday for a flag football game in Dallas, where the sun was finally shining after a week of ice and snow. Manning predicted an exciting "down to the wire" matchup between the Green Bay Packers and Pittsburgh Steelers.
"After the game, no one will be talking about the weather," said Manning, who served as a coach during the DirecTV Celebrity Beach Bowl.
The game was played on a sand-covered field in a heated tent, a welcomed bonus for some of the actors, professional athletes and other celebrities who turned out for the game. But actress Hayden Panettiere may have been too nervous to notice the outdoor temperature, noting the crowd inside the specially constructed 10,000-seat stadium.
"This is a lot of pressure - it's a big crowd," she said.
Chord Overstreet of the television show "Glee" acknowledged it was warming up, but arrived wearing a stocking cap and coat over his shorts and jersey.
Colt McCoy, the former University of Texas quarterback who now plays for the Cleveland Browns, was surprised the icy weather lasted so long.
"I've lived in Texas my whole life and I've never seen anything consistent like this," said McCoy, who also served as a coach.
Matt Bomer of TV's "White Collar" said he grew up just outside Houston and was "a little weary" when he flew into Dallas "because I know they only have so many snow plows."
But a little snow didn't bother actor Kevin Dillon of "Entourage," who said: "It's not too bad. I'm a New Yorker."
Others participating in the Beach Bowl included Hall of Famer and former Detroit Lions running back Barry Sanders, "Gossip Girl" stars Chace Crawford and Jessica Szohr, New York Yankee Alex Rodriguez and Josh Duhamel of "Life as We Know It," who will be watching his wife, Fergie perform as part of the Black Eyed Peas during Sunday's halftime show.
Follow Emirates 24|7 on Google News.