Chris Rock calls Oscars 'the White People's Choice Awards'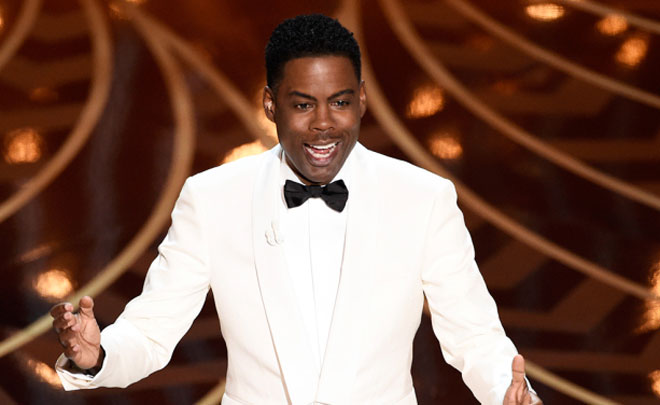 "Well, I'm here at the Academy Awards, also known as the White People's Choice Awards," host Chris Rock kick starts the 88th Academy Awards at the Dolby Theatre in Hollywood.
Comedian Chris Rock launched his return stint as Oscar host on Sunday by immediately, directly confronting the racially charged elephant in the room - the lingering furor over the all-white field of performers nominated for Hollywood's highest awards.
Some of @ChrisRock's favorite deleted scenes. #Oscarshttps://t.co/TwhpqMEfdK

— The Academy (@TheAcademy) February 29, 2016
Strolling on stage in a white dinner jacket and bow tie after an opening display of rapid-fire film clips from the past year in Hollywood movies, Rock declared with false irony, "Man I counted at least 15 black people in that montage."
Rock, the outspoken black comedian chosen to host the Oscars months before the selection of an all-white acting nominee line-up for a second year, welcomed viewers to what he called "the white People's Choice awards."
Addressing the diversity issue, Rock continues his monologue - "I thought about quitting... The last thing I need is to lose another job to Kevin Hart."
He went on to say, "It's not about boycotting anything. We just want opportunities. Black actors want the same opportunities."
Speculating on why the furor over diversity in the industry had taken root this year, rather than in the 1950s or 1960s, Rock said black Americans had "real things to protest at the time."
"We were too busy being raped and lynched to care about who won best cinematography," he said.
Turning to the present day, Rock joked that things would be different at Sunday's Academy Awards, saying the traditional segment honoring stars who died is "just going to be black people that were shot by the cops on their way to the movies."
A few blocks away from the glamor of Hollywood's Dolby Theater, about 40 people gathered to make the case for more diversity in a rally organized by civil rights leader Al Sharpton. Sharpton also called for Americans to "tune-out" the live telecast, the most watched non-sports TV event of the year.
However a wider Oscar boycott largely failed to gather steam as black celebrities including Kerry Washington, Whoopi Goldberg, Pharrell Williams and John Legend all showed up.
"I really want to be part of the conversation so we have institutional change, so we never have a year like this again," Washington told ABC television on the red carpet.
The under-representation of people of color in the film and TV industry prompted pledges to bring more women and minorities into the industry and the Academy.
Follow Emirates 24|7 on Google News.