Cindy Crawford's perfect gift for the Clooneys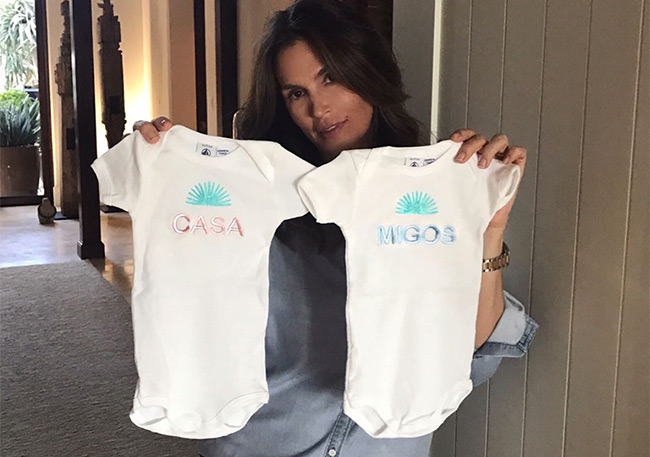 Cindy Crawford has fuelled speculation George and Amal Clooney are expecting a boy and a girl after she took to Instagram to reveal she has found the "perfect baby gift" for the couple.
The 51-year-old supermodel took to Instagram to share a picture of herself holding the "perfect baby gift" for the couple's impending arrivals, two baby grows with the words 'casa' and 'migos' on, the name of George and Cindy's husband Rande's tequila brand.
Captioning the picture of the outfits, one which had blue writing and other pink, Cindy wrote: "Hey, @RandeGerber - think I got the perfect baby gift for the Clooneys! (sic)"
It comes after George admitted he and Amal haven't chosen names for their twins yet.
He said: "No we haven't picked out any names and I'll tell you why. Because I've had friends pick out names around their parents and then it becomes ...
"Whatever name you pick they're like, 'Oh, I don't like that. That guy's a prime minister' 'Can't name her Susan. You remember your Aunt Susan?'"
And the 55-year-old star admitted he "didn't know" he'd become a father one day but it seemed right it would be the "next step" in their lives after they tied the knot in 2014.
He added: "Can you believe it?! Yeah, [I'm] even happier [than before]. I didn't know that we'd have kids. I was very happy that we were going to get married and then [a pregnancy] seemed like the next step."
And George is reportedly "nervous" about becoming a father.
A source said: "George is excited but nervous. He is excited about the kids, but also has the normal amount of nerves that come with being parents ... Amal strikes me as someone who'll be a fantastic mother. Intelligent, loving, funny, smart, nurturing. She doesn't seem someone who will let kids get away with being Hollywood children ...
"Amal stopped travelling for dangerous missions months ago. George knows how brilliant Amal is in her work and how nurturing of a person she is. He knows she will be a wonderful mother ... [George had previously] hinted that he might be taking some time off. That would be very rare for him, but now it all adds up. He's going to be the best dad."
Follow Emirates 24|7 on Google News.