Clapton, Winehouse, Usher – all 'live' in 2011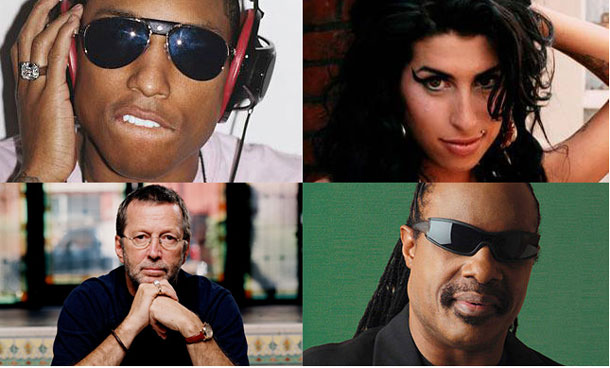 Another year simply means another red carpet welcome for A-list celebrities who now cannot ignore the status the UAE now enjoys as a regional hub for top entertainment acts.
The first quarter of 2011 will see Bollywood melody queen Asha Bhosle return to the stage for a tribute concert to late husband, the legendary RD Burman.
Yet, she won't be alone to heat up the winter months here with a top-billed event.
Eric Clapton, Stevie Wonder, Amy Winehouse, Pharrell Williams and Usher, all will perform live, while the disgraced golfing hero Tiger Woods and world champion Miguel Angel Jimenez will also tee off here for the Dubai Desert Classic.
If you too do not want to miss the line-up that 2011 promises, simply follow the Emirates 24|7 calendar of events and note it in your diaries for an exciting year ahead.
CONCERTS
Yas Island – February-March
The guitar superstar Eric Clapton and the soul legend Stevie Wonder head a line-up of international artists heading for Yas Island in the new year.
The 2011 entertainment series begins in February, with live concerts, festivals and community events coming to Abu Dhabi throughout the year.
Yas Island Show Weekends will open with Clapton at Yas Arena on Friday, February 11. "Slowhand" will set up an action-packed weekend that includes two days of V8 Supercars racing at Yas Marina Circuit. The following weekend, on February 17, the island will host the Dutch techno DJ Tiesto at the Flash Forum.
The performance is the much-anticipated rescheduled stop on Tiesto's Kaleidoscope World Tour. A show in October was cancelled at the last minute.
On March 11, the American rock band 30 Seconds to Mars, headed by the actor Jared Leto, will take over the Flash Forum for their first show in the Middle East.
The Yas Island performance is the last scheduled stop on the three-man band's This is War album tour.
The final show of the spring series will bring Stevie Wonder to the island on March 18.
Republica Live in Dubai
January 13
After a 10-year hiatus, the enigmatically cool band Republica, well known for their chart-topper, "Ready To Go" will be at the Music Room, Majestic Hotel, Dubai, to lend support to the winners of the Best Band in Dubai Award 2010, local boys Juliana Down. Organised by Jump Media.
Details: Tickets priced at Dh100. Call: 04 347 3943
Asha Bhosle: Rahul and I
January 14
Bollywood legend Asha Bhosle will perform live in this once in a lifetime concert, which pays tribute to her late husband and musical icon, RD Burman.
Expect all the hits, including "Piya Tu", "Ye Mera Dil", "Jaane Jaan", and many, many more.
Joining her at this sensational event are singers Shafqat Amanat Ali Khan, Kamran Ahmed and Amit Kumar.
Orgainied by Cyclops Events, the mega concert will take place at the Sheikh Rashid Hall, Dubai International Convention Center.
Details: Tickets start at Dh200. Call: 04 337 3724
Mohamad Hamami Solo Violinist, Sharq Orchestra and Special Guest Marwan Khoury
January 14
For this special performance at Centrepoint Theatre, Mall of The Emirates, the renowned Sharq Orchestra will be joined by Marwan Khoury, providing the breathtaking voice that will be familiar to the thousands who have seen him perform live or listened to one of his many studio albums.
Details: Tickets start at Dh150. Call: 04 341 4777
Sunidhi Chauhan and KK – Dubai Rocks
January 28
After wowing the world with her most recent chart-topping sensation, "Sheela Ki Jawani", the Bollywood diva, Sunidhi Chauhan, returns to Dubai, this time with the award-winning Kay Kay, who is best known for songs such as "Hai Junoon" (New York) and title track "Jhoom Barbar Jhoom".
Organised by Oberoi Events, this Madinat Arena, Mina A' Salam event will be another hot ticket of the year.
Details: Tickets start at Dh150. Call: 050 626 0593
Pharrell Williams with band N*E*R*D and special guest Mike Posner
February 10
Gulf Bike Week kicks off and some kickass action is in play, courtesy Done Events.
Pharrell Williams and his band N*E*R*D will perform live alongside Mike Posner.
Pharrell is best known for his collaborations such as "Drop It Like It's Hot" with Ludacris, apart from his usual suspects that include Madonna, Jennifer Lopez, Shakira, Gwen Stefani and many others.
The Dubai Festival City Concert Arena will certainly be the place to party at that weekend.
Details: Tickets start at Dh250. Call: 04 439 0900
Amy Winehouse Live in Dubai
February 11
The troubled starlet whose cult hit, "Rehab", ironically personifies her life will be performing in Dubai at the Festival City Concert Arena in honour of Gulf Bike Week.
The Grammy-winning Winehouse promises drama wherever she goes and we sincerely hope fans in Dubai won't be disappointed.
Organised by Done Events, this event promises to be the hot ticket of the year, so grab them now while you still have the chance.
Details: Tickets start at Dh300. Call: 04 439 0900
Usher OMG World Tour
March 10
For the first time ever, Usher is set to appear live in concert in the Middle East. At 31 years old, he ranks as one of the world's best selling artists having sold over 50 million albums and won 17 Billboard Music Awards, nine ASCAP awards, eight Soul Train Music Awards and five Grammy Awards, among many others.
Organised by Done Events yet again, tickets for the Dubai Media City Amphitheatre event have already gone on sale.
Says Thomas Ovesen, COO Done Events: "People in this region love Usher's music and I can't think of a more requested performer that hasn't yet played here."
A special after party has also been planned, with tickets up for grabs for that too.
Details: Tickets start at Dh295. Call: 04 439 0900
Roxette
May 20
While we aren't sure if this event is actually happening, considering mixed reports over the internet, here's hoping that the sensational Swedish band, Roxette, does make its way to our sunny shores.
The duo, comprising Per Gessle and Marie Fredriksson, are best known for hits such as "The Look", "It Must've Been Love", "Joyride" and many more, the duo are supposedly scheduled to perform at the Dubai World Trade Centre on May 20.
Log on to the duo's official website, Roxette.se for updates.
Details: Ticketing details have yet to be confirmed
LIVE ON STAGE
Tiesto - Kaleidoscope World Tour
February 17
Those of you who were positive gutted when world-renowned Dutch king of electronic dance, Tiesto's concert was called off in October, can now rejoice as the maestro returns to Abu Dhabi for an event that will kick off the year of events for Flash Entertainment.
As part of the Flash Forum, Yas Island weekends, this mega event will even has special buses shuttling people from the JBR car park. Strictly for over 21-year-olds.
Details: Tickets start at Dh150. Call: 02 509 8000
Three Phantoms
February 17, 18, 19
DUCTAC is set to be haunted not just by one phantom but three. Three Phantoms, making its debut in the Middle East, is a brand new, West End-standard concert featuring three former Phantoms who between them have clocked up over 2,000 performances playing the title role in Andrew Lloyd-Webber's "The Phantom of the Opera". At the Centrepoint Theatre, Mall of The Emirates, Dubai.
Details: Tickets start at Dh120. Call: 04 341 4777
Johny Lever
January 20
While some of us are not exactly jumping with joy, the Bollywood comedian will take to a specially erected stage at The Football Grounds, Indian High School, Dubai for what we hope is a rib-tickling event. Organised by Signature Events.
Details: Tickets start at Dh60. Call: 04 337 3724
SPORTING STARS
AC MILAN
January 2
Think hot Italian players such as (we hope at least) Filippo "Pippo" Inzaghi and Gennaro "Rino" Gattuso taking on local boys at the Al Ahli Club.
The inaugural Emriates Challenge cup will certainly bring the best of European football in Dubai.
Details: Tickets start at Dh50. Call: 04 321 0008
Tiger Woods and Miguel Angel Jimenez
Dubai Desert Classic
February 8 until 13
The 22nd annual Dubai Desert Classic golf tournament, which kicks off on February 8 has already confirmed a star-studded line-up, which includes the current champion from Spain, Miguel Angel Jimenez, some of the world's top players from the European Tour and, of course, Tiger Woods from the US.
In a statement released by tournament promoters, Woods said that he wants to win back the title he once held back in 2008, adding that the quality field would force him to play his best game.
Said Woods: "The level of competition has always been extremely high so I know I'll have to play my best golf if I'm going to regain my title. It's a great venue, the course is always in immaculate condition and the weather reminds me of back home in Florida."
The players will compete on the Majlis course for $2.5 million.
Follow Emirates 24|7 on Google News.