Commitment issues: Why is Katrina Kaif unhappy with Ranbir Kapoor?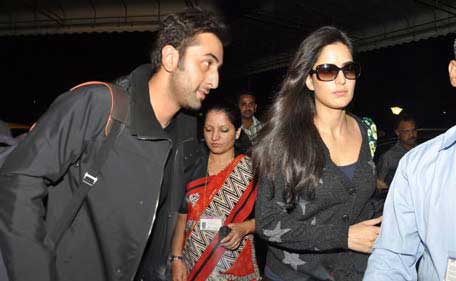 All was well between Bollywood actress Katrina Kaif and her lover boy Ranbir Kapoor when they left for New York to ring in the New Year.
Katrina Kaif had gone for a holiday along with Ranbir and a couple of friends which included Ranbir Kapooor's sister, Kareena Kapoor and her husband Saif Ali Khan.
Reports now suggest that after their return, things are not the same between the two lovebirds and they maybe calling it quits.
The New Year didn't begin on a merry note for the two when they got into a spat during their vacation goes the latest gossip.
While no one knows for sure why the two are cross with each other, 'India Today' and other Indian media reports claim that although Kaif is determined to take her film career forward and make her mark in Bollywood, on the personal front she wants Kapoor to commit to the relationship.
The relationship between the two is perhaps the biggest open secret of the film industry with Kapoor's cousin, Kareena, dropping hints about it and going to the extent of calling Kaif her sister-in-law on Karan Johar's television show, 'Koffee With Karan'.
The duo has, however, never said a word about their relationship in public even after being photographed together in Ibiza.
Thanks to the secrecy over their relationship there has been a lot of speculation surrounding it.
There was even a recent report that indicated that Kapoor had proposed to Kaif only to be rejected.
Kaif wants to continue her good run in Bollywood and thinks that marriage might be a road-block.
So why ask for commitment?
Well, we are not confirming or contradicting any news regarding these two - you never know Katrina might shoot out a mail (remember the bikini incident?) blaming the media for her split.
Follow Emirates 24|7 on Google News.