Controversial Casting: Joseph Fiennes as Michael Jackson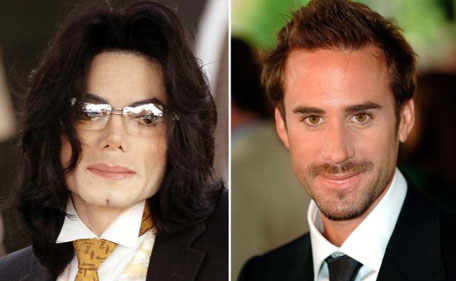 With the entertainment industry currently embroiled in a debate over the lack of diversity in film, UK pay TV network Sky Arts may have picked the wrong time to announce that British actor Joseph Fiennes will play pop icon Michael Jackson in a new half-hour comedy special.
The project, 'Elizabeth, Michael and Marlon,' will center around an unlikely road trip that Jackson and friends Elizabeth Taylor (Stockard Channing) and Marlon Brando (Brian Cox) allegedly took from New York to Ohio in the wake of the 9/11 terrorist attacks in 2001.
In a statement regarding Fiennes' casting, Sky Arts said, "'Elizabeth, Michael and Marlon' is a Sky Arts comedy which takes a light-hearted look at a reportedly true event; Joseph Fiennes is cast as Michael Jackson. It is part of a series of comedies about unlikely stories from arts and cultural history. Sky Arts gives producers the creative freedom to cast roles as they wish, within the diversity framework which we have set."
In an interview with Entertainment Tonight, Fiennes addressed the incongruity of a white actor being asked to play an African American singer. "I'm a white, middle-class guy from London ... I'm as shocked as you may be," he said.
"[Jackson] definitely had an issue - a pigmentation issue - and that's something I do believe. He was probably closer to my color than his original color."
While the project is designed as a comedy, and will be directed by Ben Palmer - a helmer known for his satirical projects across the pond including 'The Inbetweeners,' 'Star Stories' and 'Bo' Selecta' - Fiennes' casting has struck a nerve in an already sensitive industry.
"There is both a casual ambivalence and quiet hostility towards broadening the range of opportunities for non-white stars to truly thrive in the mainstream, and things like casting a white man to play Michael Jackson only serve as further proof that there are filmmakers who are deeply determined to tune out the cultural conversation," noted Stereo Williams at The Daily Beast.
Two weeks ago, another white actor, British thesp Charlie Hunnam, was cast as Mexican American drug kingpin Edgar Valdez Villarreal in Legendary's 'American Drug Lord,' a decision that producer Vincent Newman defended because Villarreal was known as 'La Barbie,' thanks to his blond hair and light skin.
"It seems not well thought-through to be upset over casting an excellent actor to act as a character with whom he seems to share many physical resemblances," said Newman, per Fox News. "I suppose those offended by this would have disqualified Al Pacino from acting as Tony Montana or James Caan as Sonny Corleone. It's acting after all, and the merit of the choice will be assessed as it is with all casting choices, on the quality and believability of his performance."
But plenty of industry figures have taken issue with Fiennes and Hunnam's casting, with director Lexi Alexander noting on Twitter, "The fact that the Joseph Fiennes & Charlie Hunnam whitewashing announcements are made during #OscarsSoWhite campaign says a whole lot."
Actor Orlando Jones chimed in, "I'm TOTALLY on board with Joseph Fiennes playing Michael Jackson IF AND ONLY IF Angela Bassett is cast as Elizabeth Taylor."
BET's official Twitter account also drew attention to other notable examples of whitewashing in Hollywood.
And they weren't alone.
"Charlie Hunnam can play Mexican-American Edgar Valdez & Joseph Fiennes can play Michael Jackosn, but Idris Elba can't play Bond?" asked Twitter user @HashtagLaToya, referencing the recent controversy over 007 author Anthony Horowitz's comments that Idris Elba was "too street" to play James Bond after current star Daniel Craig steps down from the franchise. Elba recently criticized the U.K. entertainment industry for its lack of diversity, citing the lack of opportunities for actors of color in Britain during a speech before Parliament.
"I realized I could only play so many 'best friends' or 'gang leaders.' I knew I wasn't going to land a lead role. I knew there wasn't enough imagination in the industry for me to be seen as a lead," he said, explaining his decision to relocate to the U.S. for work, where he was soon cast in HBO's critically acclaimed drama 'The Wire.'
In an interview with WENN, Fiennes didn't address the incongruity of a white actor being asked to play an African American singer. "I got the script the other day ... It's a challenge. It's a comedy. It doesn't poke mean fun but it's a story, possibly urban legend, whereby Michael, Marlon Brando, and Liz Taylor were all together the day before 9/11 doing a concert. Airspace was shut down and they couldn't get out and Michael had the bright idea to go to hire a car and drive," he explained. "It's a lovely thing about Michael's relationship with Liz Taylor and Marlon Brando. It's a fun, light-hearted tongue in cheek road trip of what celebrity of that kind is like. But also it's rather beautiful and poignant about their relationships as well."
What do you think of Fiennes being cast as Jackson? Share your thoughts below.
Follow Emirates 24|7 on Google News.