Cricket greats feature in new Bollywood film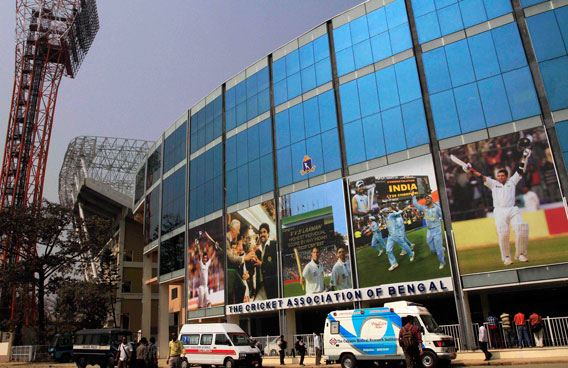 As teams prepare for the cricket World Cup in India, Sri Lanka and Bangladesh, some of the game's greatest players are gearing up for an appearance of a different kind - in a new Bollywood film.
Former Pakistan paceman Wasim Akram, ex-England captains Nasser Hussain and Graham Gooch, South Africa batsman Herschelle Gibbs and Australia all-rounder Andrew Symonds all feature in "Patiala House", which is released on Friday.
The film stars Akshay Kumar, an actor noted more for his action hero roles than his skills with the bat and ball, and tracks tensions between a traditional Punjabi father and his son in the west London suburb of Southall.
"My character Gattu wants to be a cricketer but his family is opposed to it. So, I am trapped between my ambition and my father. He wants me to work in his shop whereas I want to play cricket for England," Kumar told reporters.
Director Nikhil Advani said authenticity was essential with cricket providing the backdrop for the immigrant family drama. Southall has one of the highest concentrations of people of South Asian origin outside the sub-continent.
The script is reminiscent of Gurinder Chadha's 2002 hit "Bend It Like Beckham", set in nearby Hounslow with Parminder Nagra as the second-generation Sikh girl who defies her parents' wishes to play football.
"The film is about a cricketer's life and therefore we have taken many cricketers as actors so that we can get a real look for the film," said Advani.
Akram is rumoured to be playing the young Gattu's bowling coach and the film was shot at Test grounds, including The Oval in south London.
Advani insisted, though, that the cricket is not the central thrust of the story but "the immigrant life... and the generation gap".
The film's release is timely nevertheless, given that cricket's showpiece one-day tournament begins on February 19 and lasts for a marathon six weeks.
Joint hosts India might have been expected to have made more films about cricket given its obsession with the game, the celebrity status of its top players and Bollywood stars part-owning sides in the Indian Premier League.
But they have been few and far between, and suffered varying receptions.
Aamir Khan's 2001 offering "Lagaan" (Tax) - about a group of poor Indian villagers who take on their British colonial masters at cricket - was nominated for the Best Foreign Language Film Oscar and is considered a classic.
"Iqbal", a 2005 film about a cricket-mad boy from a remote Indian village who dreams of playing for the national side, was less successful at the box office.
Sport has provided rich pickings for filmmakers over the world, from biopics like "Raging Bull" and "Ali" to dramas like "Chariots of Fire", "Seabiscuit" or "This Sporting Life".
"Escape To Victory" - a 1981 film about Allied World War II prisoners who are forced to play the German national side by their Nazi captors - has become cult viewing among football fans.
It featured former England captain and World Cup winner Bobby Moore, Brazil legend Pele and a string of other former stars alongside top actors Sylvester Stallone, Michael Caine and Max von Sydow.
Despite the all-star cast that is likely to be a draw for cricket-loving cinema-goers, Advani said that "Patiala House" reflected life for many Indian youngsters and the sons and daughters of immigrants.
"Many South Asian youngsters sacrifice careers for their family's sake and they never get a second chance to be what they wanted to actually do in real life," he said.
"But in this film Gattu gets a second chance to prove himself as a cricketer."
Follow Emirates 24|7 on Google News.