Cristiano Ronaldo wins Ballon d'Or but loses Irina Shayk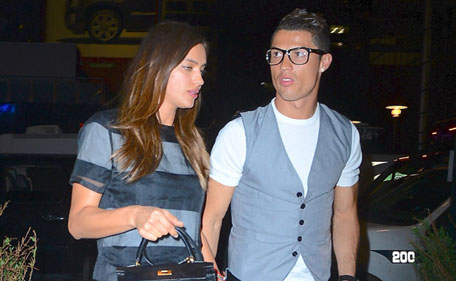 Cristiano Ronaldo may have just won the Ballon d'Or for the second successive year in a row, but looks like the Real Madrid star lost his trophy girlfriend Irina Shayk.
If reports are to be believed Irina has split from Cristiano Ronaldo his partner of four years.
Getty
The 29-year-old model has sparked rumours she recently ended her relationship with the soccer star, 29, after three years of dating after suddenly unfollowing him on Twitter.
The brunette beauty also failed to support the Real Madrid player when he scooped the prestigious Ballon d'Or winner for the third time during a glitzy ceremony in Zurich on Monday night (12.01.15) and he did not mention the Russian model in his acceptance speech.
Cristiano Ronaldo stands with his son Cristiano Ronaldo Jr, after winning the FIFA Ballon d'Or 2014 during the soccer awards ceremony at the Kongresshaus. (Reuters)
But a spokesperson for Irina claims the event merely "didn't fit in with her schedule."
Her New York-based PR told Goal.com: "[The Ballon d'Or] didn't fit in with her schedule - it was because of work commitments. We have no further comment to make."
However, the aspiring actress has been posting a number of pictures on her social media profiles from the beach in recent days after jetting off on holiday to celebrate her birthday on January 6.
The former Victoria's Secret model first hinted she was newly single when she posted a photograph of herself cuddling a black dog on Facebook on December 3, with the caption: "Found my new love."
Follow Emirates 24|7 on Google News.