Cycling chiefs to use motor-detecting X-ray machine this weekend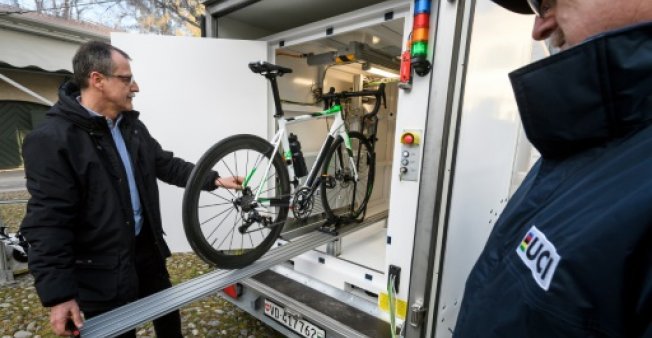 An X-ray machine will be "used from this weekend" to help cycling bosses detect miniature motors in bicycles at top-level races, world cycling president David Lappartient said on Wednesday.
A mobile X-ray machine mounted on a trailer "is a new tool that will allow riders' bikes to be monitored" to help catch so-called mechanical doping cheats, Lappartient said.
Thermal cameras and magnetometric tablets will also continue to be used in the detection of the tiny motors, usually hidden in the bike's frame and which can give a rider a crucial boost in power at specific moments during a race, such as riding into a headwind or on a tough climb.
International Cycling Union (UCI) chief Lappartient said the governing body has also not "ruled out" stripping down bikes but the X-ray machines should allow officials to detect motors without needing to take apart a bicycle.
"We hope to show that our riders don't use motors. The aim is to show that everyone is battling on a level playing field," said Lappartient from Geneva, where a UCI meeting was held.
The UCI president did not reveal at which event the X-ray machine would be used this weekend but former cyclist Jean-Christophe Peraud, who is heading a commission tackling technological fraud, says the machine will be widely used.
"We will be present with this technology across the five continents and in 18 countries," said the 2014 Tour de France runner-up.
"We'll cover 50 percent of the World Tour calendar, but also other disciplines such as mountain biking and track cycling."
The X-ray machine, which Peraud said allows a monitor to "read into bicycles like reading an open book", has been developed by VJ Technologies, a company that has been in partnership with the UCI since 1987.
But the UCI only has one machine.
There had long been suspicions of miniature motors being used in bikes but it wasn't until 2016 that one was found in a race bicycle.
Femke Van den Driessche was caught out at the junior world cyclo-cross championships, an offence which saw the Belgian national junior champion receive a six-year ban.
In October 2017, a 43-year-old amateur cyclist was snared in a targeted sting operation and caught riding a motorised bicycle in a competition in France before admitting to using the bike in five races over the previous three months.
A 53-year-old Italian, Alessandro Andreoli, was also caught out in 2017 at a race in Italy following a tip-off to organisers.
A thermal camera had been used to identify a motor in his bike, yet despite initially admitting to his offence, he later pleaded his innocence.
Follow Emirates 24|7 on Google News.