'Dabangg' effect: Sonakshi doesn't want 'brotherly' love from Salman Khan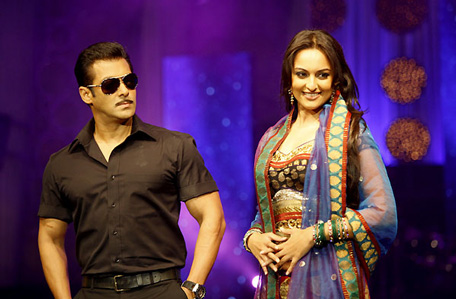 Bollywood actor Salman Khan is currently riding on the huge success of his previous films 'Wanted', 'Dabangg', 'Bodyguard' and 'Ek Tha Tiger' — all of which performed remarkably well at the box office.
His popularity is unmatched and can be imagined from the fact that from having six bodyguards around him he now has twelve.
Among fans and co-stars he is popularly known as Salman Bhai (brother). Even the leading ladies in the industry address him as 'Bhai'. Not Sonakshi Sinha though.
Salman, who has a huge fan following has been lovingly addressed as Salman 'bhai' but he seems to have a few reservations about it. And so does his 'Dabangg 2' co-star Sonakshi Sinha.
She made her debut with the superstar in the 2010 blockbuster 'Dabangg' doesn't believe in attaching 'bhai' to Salman Khan.
She believes Salman is more than a co-star; he is her mentor and guide and has known him since her childhood.
Talking to an Indian daily, Sonakshi said, "All his co-stars call him Salman, so why should I call him anything else. Why is it an issue when I don't attach `bhai` to Salman?"
Even Salman Khan hates being given pet names like 'bhai'! The 'Dabangg' Khan confesses during a television interview 'Frankly Speaking' saying, "All sorts of idiots call me that (bhai). Not everyone has the right to call me bhai."
"I have two brother Sohail and Arbaaz they call me bhai and that is more than enough I don't need anyone else to call me bhai," continued Salman.
In 2011 when Salman came visiting Dubai he expressed his displeasure about the bhai tag.
Salman was in Dubai to announce details of the second season of the Celebrity Cricket League (CCL) with Sonakshi Sinha, Kangna Ranaut, Sohail Khan, Suniel Shetty and many other celebrities.
When Southern actress Richa Gangopadhyay got on stage and thanked 'Salman bhai' for his role in the league, the phrase had the man himself amused.
Salman interrupted and said, "Don't call me Salman bhai! I've got two sisters – that's more than enough!"
Salman also looked shocked when Suniel Shetty called him Bhai. He pulled Suniel's leg, "Sohail and I were 5 and 10 years old when we came to your wedding – why are you calling me bhai?"
The superstar might be finally drawing the line when it comes to who gets to call him 'brother'. And Sonakshi is being quite obedient.
MUST READ:
Bollywood 'not' to be blamed for heinous crimes; Item numbers here to stay
Too hot to publish: Unseen pics of Princess Diana go on sale
2013: Most awaited films of the year Dhoom3, Chennai Express...
Follow Emirates 24|7 on Google News.