Dancing queen Madhuri Dixit's big leap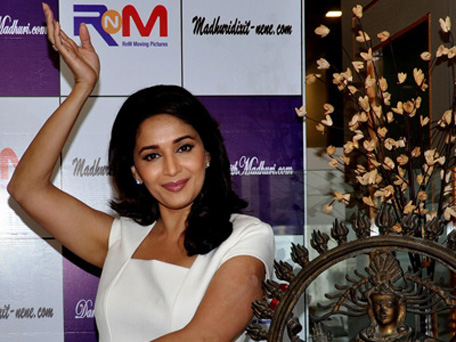 Bollywood actress and dancing diva Madhuri Dixit makes dancing easy for everyone.
Along with husband Dr Sriram Nene she has recently launched "Dance with Madhuri' an online dance academy.
"Dance has always been my passion. I decided to give something connected to dance to all my fans. The dancing steps have been kept simple for not only my Indian fans but the reach is going to be global."
She goes on to add, "I would take this opportunity to thank my husband. Without his support this online dance academy would have not been possible. He has shouldered the responsibility of looking into the technical aspect very minutely and so my dancing passion reaches one and all, especially to those who wish to learn dance. The simplified dancing steps will cater to all age group.
"I would also like overweight women to see it and start learning dancing steps at their convenience as this will not only help them turn into a shapely figure but will also enable them to showcase their talent at events."
Madhuri Dixit Nene poses during a press event for an online dance academy in Mumbai. (AFP)
Madhuri has chosen two of her hit numbers.
She goes informs, "'Mai Ni Mai' and 'Ek Do Teen' are the two hit numbers from my own films. I have divided each song into detailed lessons while Mia Ni…comprises 16 lessons, 'Ek Do…' has been divided into 19.
"One can even monitor their progress. Their videos will be voted and ranked by the other members of their social networking and will fetch them prizes. Badges and stamina points will be granted to them and finally the top five will get a certificate signed by me. But their video has to excel," she says.
Madhuri has proved her love for the Indians time and again. When she got married, critics had told her to pack her bags and leave but with her last film with YRF, which bagged her a Filmfare award she retorted, "This award indeed is the answer to the critics."
Madhuri Dixit Nene poses during a press event for an online dance academy in Mumbai. (AFP)
For over a decade, Madhuri ruled the roost and danced her way into the hearts of the audience with popular numbers including 'Dhak Dhak Karne Laga', 'Ek Do Teen', 'Humko Aaj Kal Hai', 'Chane Ke Khet Mein', 'Didi Tera Devar Deewana', 'Choli Ke Peechhe', 'Mera Piya Ghar Aaya', 'Kay Sera Sera' and 'Maar Daala' among others.
'Dance with Madhuri' is a revolutionary product, which allows dance enthusiasts to enroll into the programme through their Facebook, Gmail or Yahoo id. "This venture is one of its kind. There is no dance academy that is online. We are blind.. we don't know how people will react, what response we will get. Also it can be a medium to find new talent. We want to bring different dance forms be it classical, western or Bollywood style under one roof," Madhuri said.
Through this online dance academy, the 45-year-old aims to reach out to dance lovers and fans across the globe, where they can get to learn dancing from her and a team of choreographers.
MUST READ:
RGV's 'Attacks of 26/11' delayed in UAE
Shilpa Shetty's Nach Baliye avatar: Yummy mummy or fashion diva?
Follow Emirates 24|7 on Google News.