Daredevil Miss Universe rocking and 'zip-lining' through Super Bowl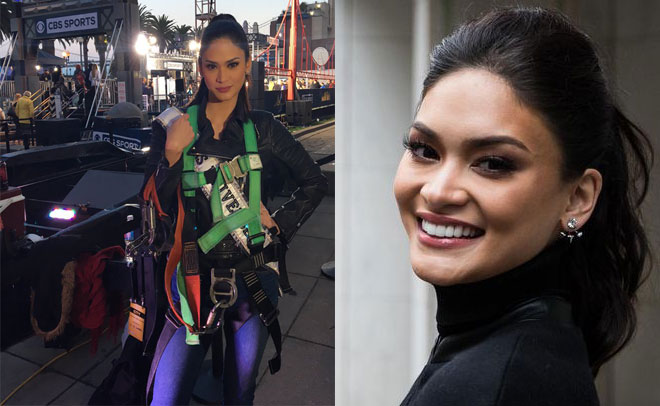 What happens when you put Peyton Manning, Miss Universe, an orange-and-blue leprechaun and 200 TV cameras into the same room?
Super Bowl madness.
And who was the center of attention before the players arrived at Super Bowl media night?
Miss Universe 2015 Pia Alonzo Wurtzbach.
Wurtzbach seems to be having the time of her life as she takes on her new duty as a correspondent of 'Inside Edition' for Super Bowl 50.
"They contacted me. I guess they liked the way I spoke, and asked me if I would like to do it," Wurtzbach said.
"I just want to keep it light and fun. It's nice getaway from pageantry, I get to tap into sports."
.@MissUniverse is taking @SuperBowl50 by storm and showing off some killer dance moves while she's at it! #SB50https://t.co/NNuOEuks4D

— Inside Edition (@InsideEdition) February 2, 2016
Miss Universe, one of the 5,500 'reporters' with credentials for Super Bowl-week festivities, answered more questions than she asked.
Most had to do with Steve Harvey. "Yes, I am the real Miss Universe," she said, referencing Harvey's embarrassing gaffe a few weeks back.
Dream Team. 🙌🏼 Things got real with the Carolina Panthers. #SuperBowl -Pia pic.twitter.com/2FG4kbZ2Eu

— Pia Alonzo Wurtzbach (@MissUniverse) February 2, 2016
In a series of posts on the Miss Universe Instagram account, Wurtzbach can be seen interviewing the players of the much-awaited sporting event.
In a post, she interviewed Denver Broncos' Kenny Anunike. Wurtzbach asked Anunike to teach her some dance moves.
Let's play? 🏈 -Pia pic.twitter.com/YyoE0oZY5W

— Pia Alonzo Wurtzbach (@MissUniverse) February 1, 2016
The Filipina beauty icon was also seen dancing with the players from the Carolina Panthers in a separate post.
Carolina Panthers' Ryan Delaire and Bene' Benwikere danced with Wurtzbach during Opening Night for the NFL Super Bowl 50 football game and she owned the floor.
Wurtzbach said she doesn't have a rooting interest in the game.
"Since I am working for 'Inside Edition,'" she said, "I am neutral."
But Wurtzbach is not just beauty with brain - she is a daredevil too.
In a recent post, the Miss Universe is seen all geared up to zip-line. Anybody who experienced zip-lining knows it's not meant for the faint-heart.
The gravity-fueled conveyance using cables and pulleys threaded between two points in high-speed is an adventure thrill ride.
This beauty queen is surely living it up.
Super Bowl 50 will be held at the Levi's Stadium in Sta. Clara, California on February 8.
Pics, videos: Twitter/Instagram/MissUniverse
Follow Emirates 24|7 on Google News.