Daring Kidman is the queen of Cannes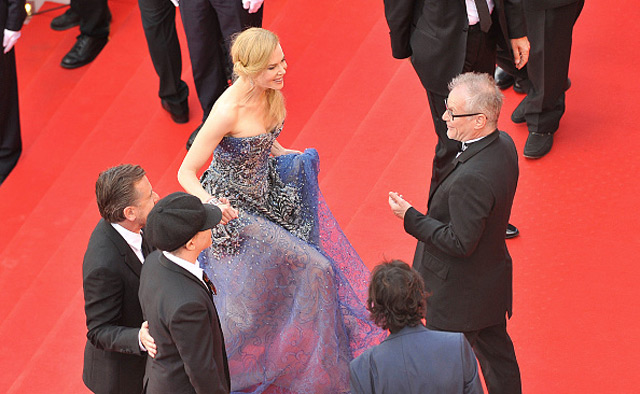 Nicole Kidman is the undisputed queen of the Cannes film festival which opens Wednesday in the French Riviera resort, starring in three of its most eagerly awaited films.
The Australian actress is in two in the running for its top prize, the Palme d'Or, and plays a fashion and music maven in "How to Talk to Girls at Parties" in the official selection.
The film, adapted from a Neil Gaiman short story, has Kidman adopting Elle Fanning's alien as her protege.
Kidman also shows her trademark mix of hauteur and vulnerability as a pent-up governess of a Mississippi girls school in Sofia Coppola's highly touted remake of "The Beguiled".
The film, set against the backdrop of the American Civil War, has Colin Farrell as an injured Union soldier who seduces Kidman's charges and drives her wild with desire.
She teams up with the Irish actor again in Greek maestro Yorgos Lanthimos's "The Killing of a Sacred Deer", this time as his wife in the story of a surgeon who gets disastrously drawn into the life of a dysfunctional family.
While the 49-year-old has never won a prize at Cannes, she has long been a festival favourite, taking a string of arthouse roles even after becoming one of Hollywood's most bankable stars after her split from her first husband Tom Cruise.
It was one of many reinventions that have taken the high-school dropout from Australian teen movies like "BMX Bandits" to the top of her profession.
Kidman has never lacked daring, risking working with the notorious Danish auteur Lars Von Trier, who was later banned from Cannes after saying he was a Nazi.
"One day it would be a fairy tale, the next it a nightmare," she said of working with him on "Dogville". Others told how she had to grin and bear humiliations and mind games on the set.
Whip-smart
Even when she was headlining big-budget blockbusters like "Batman Forever" in 1995, Kidman made time for whip-smart roles in indie films like Gus Van Sant's satire on fame, "To Die For", which confirmed her as a major talent.
But she had to wait until 2003 for a best actress Oscar for her depiction of tortured novelist Virginia Woolf in Stephen Daldry's "The Hours".
Two more nominations have followed, the latest for "Lion" last year.
Its storyline, of a young man from India adopted by an Australian family who searches for his long-lost relatives on Google Earth, resonated with Kidman.
She adopted two children - Isabella and Connor - with Tom Cruise, and has had two others since with New Zealand-born country singer Keith Urban.
She said she felt an immediate connection with the woman she portrayed, Sue Brierley.
"I told her a lot about myself, and it was almost like she already knew," Kidman said.
"I just felt ever since I was young that I was going to adopt a child," she added.
School dropout
Kidman was born in Honolulu where her psychologist father was working at the time, and her family returned to Australia when she was four, where took to drama from a young age, eventually quitting school to study acting.
She first caught the eye as a 14-year-old in the 1983 Australian television film "Bush Christmas" and won plaudits internationally for the thriller "Dead Calm" in 1989.
Her life was transformed the following year when she met "Top Gun" star Cruise on the set of the racetrack romance "Days of Thunder".
The two married in 1991 only to split a decade later in one of Hollywood's most famous divorces.
Once one of the highest-paid stars in Hollywood, she took a step back from acting after falling for Urban. They married in 2006 and have two daughters.
But not even an unfortunate brush with Botox could stop her coming back. "I did try Botox, unfortunately, but I got out of it. Now I can finally move my face again," she confessed.
She was back to her best in the low-budget drama "Rabbit Hole" in 2011, which won her another Oscar nod.
Like many top actors and directors, Kidman has been drawn by the lure of top-drawer television series, winning plaudits for her roles in "Hemingway and Gellhorn" and most recently with "Big Little Lies".
Indeed, she will also be on the red carpet for the fourth time at Cannes for a special screening of her friend Jane Campion's second season of "Top of the Lake" in which Kidman is almost unrecognisable as a foil to Elisabeth Moss's small-town detective.
Follow Emirates 24|7 on Google News.