David Spade 'can't believe' sister-in-law Kate Spade is dead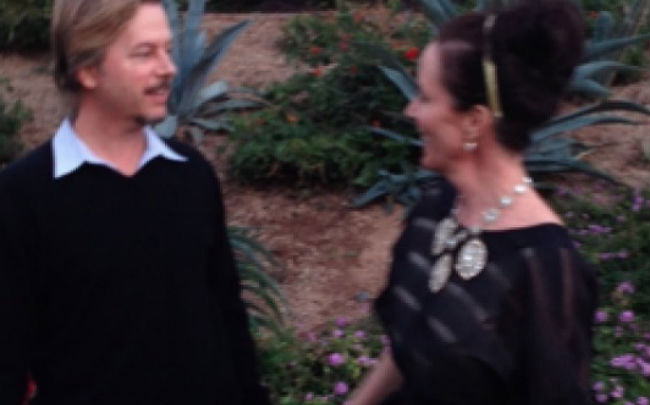 David Spade has taken to his social networking sites to remember his sister-in-law Kate Spade after she was found dead at her home in New York this week in a suspected suicide.
The 53-year-old actor took to his social networking sites shortly after it was announced on Tuesday that the fashion designer had tragically been found dead in her New York apartment in what appears to have been a suicide.
Alongside a photograph of him and Kate - who was married to his brother Andy Spade - at a family gathering over the festive period, he wrote: "Fuzzy picture but i love it. Kate and I during Christmas family photos. We had so much fun that day. She was so sharp and quick on her feet. She could make me laugh so hard. I still cant believe it. Its a rough world out there people, try to hang on. (sic)"
Kate was found dead in her home by her housekeeper and is believed to have left a note, although officials have not divulged any information as of the time of writing.
She was a successful designer, having founded Kate Spade New York in 1993 with her husband Andy Spade, with whom she has 13-year-old daughter Frances.
The line began by designing its famously colourful handbags before expanding into other accessories and clothing, and eventually became a billion dollar brand.
Kate sold her ownership stake in the brand in 2006, and in 2016 she revealed she had taken time away from designing in order to focus on parenthood.
Although she had a hugely successful business, Kate's sister Reto Saffo has admitted her suicide didn't come as a shock to her because she's been battling with severe depression for years and refused to seek any medical help for it.
She told the Kansas City Star newspaper: "I will say this was not unexpected by me. She was always a very excitable little girl and I felt all the stress/pressure of her brand (KS) may have flipped the switch where she eventually became full-on manic depressive. I'd come so VERY close to getting her to go in for treatment (to the same place Catherine Zeta-Jones went for her successful bipolar treatment program). I'd spoken with them on the phone (not telling them exactly who the patient would be). They agreed to fly in and talk with her and take her with them to the treatment centre.
"She was all set to go - but then chickened out by morning. I even said I (would) go with her and be a 'patient' too (she liked that idea) . . . That seemed to make her more comfortable, and we'd get sooo close to packing her bags, but - in the end, the 'image' of her brand (happy-go-lucky Kate Spade) was more important for her to keep up. She was definitely worried about what people would say if they found out."
Follow Emirates 24|7 on Google News.