Deep Purple: Music will take care of you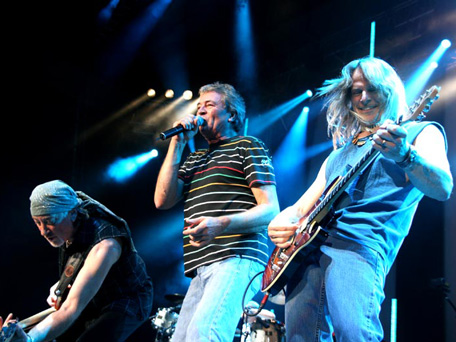 Sitting across the table from them, it is hard to picture these five, clean-shaven legends are part of an iconic band that was once considered outlaws of the music industry.
Deep Purple's line-up may have fluctuated more often than their dedication to the purity of their sound, but what has remained static these five decades is a vigilante status that has catapulted this heavy metal band into rock 'n' roll royalty.
In Dubai to headline the ongoing Jazz Festival this Thursday, the boys, however, broke a few hearts when they rubbished their notoriety involved chucking televisions out the window in a drug-fuelled rage on a regular basis.
Bass guitarist Roger Glover said: "It is this common conception than rock stars throw TVs out the windows every night or write a piece of music, only to destroy it hours later. That is not who we are."
Guitarist Steve Morse agreed, saying: "It's all to do with the '60s rock image, which was all about this raw animal power that would unleash onto the stage with its music. But to be the legends we are today comes with hard work and dedication.
"In these past 48 years, I have practiced every day of my life; and the only thing that has changed is the science of the technique by which the music is played and recorded."
The innocent smile that followed hides many a moment of yore, with cops knocking down their doors as a regular occurrence for the band back in the day.
In fact, it was such a circumstance that gave rise to two of Deep Purple's biggest hits, 'Machine Head' and the iconic 'Smoke on the Water'.
As the story goes, back in 1971, the band was slated to record 'Machine Head' at a local casino in Switzerland, but due to a technical difficulty during an earlier Frank Zappa gig, well, the place literally burned down to the ground.
Forced to check into the Grand Hotel, the band setup their music in rooms and in the hallways, much to the chagrin of guests and the local law enforcement.
'Smoke in the Water' was later penned as a biographical track to chronicle the dramas and the fact, the band was one track short on the album.
Albeit the rhythm may have transformed through time into a sound that blares out over the radios today, but for percussionist and lead vocalist Ian Gillan, music has finally lost its soul.
"Most of what is put out there today is rubbish," came the passionate response. "The turning of our band really marks the end of an era; music died with our time.
"Today, it's all about your set five minutes of fame, and then it's over for you. A few, yes, manage to stick out from the crowds but to them, music holds a different meaning. It has no structure."
Gillan, though, admits the dilution of sound is partly their fault.
"When we produced music, our inspirations were icons such as Frank Sinatra, Black Sabbath. There was a purity to the era of the blues, jazz, folk and sounds of the '30s to the '60s that stemmed years of sound.
"Everything changed; pop music changed all of that. When it went mainstream, the original sound lost its meaning and suddenly we were the icons for a later generation; our fused sound was the benchmark. The real music was simply lost."
Drummer Ian Paice appeared to reluctantly agree.
"Truth be, you can't remember a hit form two years ago, but you can still pick one out from the thirties. That's the difference," he said. "Unfortunately, today's generation doesn't understand that what you really need for a good piece of music is love and a good voice."
Seemingly untouched by the accolades that have been heaped on them by fans and artistes from within the industry itself – even tenor Luciano Pavarotti was a Deep Purple fan – the five boys admitted fame was a double-edged sword that could be headier than any drug at times, but equally harsh.
Said Gillan: "No one teaches you to deal with success. It is an emotional high, riddled with conflicts or happiness that comes shrouded in misery."
Morse agreed, comparing their meteoric rise to a moment of being hit by a car in a traffic accident.
"It has the same crash effect; some people don't survive to narrate the tale, while others walk away without a scratch. We had a few bruises," he laughed. "But inadvertently, you take care of the music and the music will take care of you."
The band is also gearing up to release its new album in April, but the name or a sneak peek into its music will have to wait a little longer, when asked if they would wow Dubai fans with a telltale guitar riff.
Paice said: "These days those little phone cameras and two minutes is all it takes to have it up on YouTube. I think our fans have waited long enough and we want to surprise them with our complete sound and have them experience the music the way it is meant to be and not via some itty bitty, grainy video.
"Dubai, you have to wait like the rest of them till April."
Follow Emirates 24|7 on Google News.