Deepika Padukone is single and Katrina Kaif is not her competition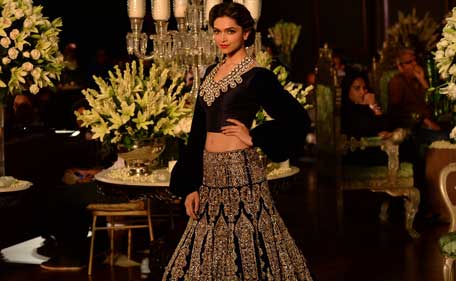 Deepika Padukone seems to be on a winning streak - from one blockbuster film to another the leggy lass has conquered the box-office.
The actress celebrated her fabulous run at the box office in the year 2012-2013 with all Bollywood biggies in attendance.
And now the party has just begun as the red carpet is rolled out for the award season. Deepika has already bagged couple of them and there's more to come.
Here are excerpts from the interview with Deepika:

You have won all the awards announced till date. Some awards are remaining; How do you fancy your chances"
No ya. You know I think there have been some really good performances last year and I am a little disappointed that all my films have been released in the same year. I actually wished that they were all sort of spaced out. It has been a special year for me. It been great not just box office wise but in terms of the appreciation I got in these films. And yes, we cannot take awards for granted.

Who do you think are your competitors for the awards?
I think there are lots of them. Nimrat was fantastic in 'Lunchbox', Sonakshi was very good in 'Lootera', and I think Sonam was very good in 'Ranjhanaa'.

How do you evaluate your success today?
No, if I feel I had anything now, it is liberation. I do not think we should not work with a lot of fear in the mind. Whatever I do, I put my heart into it. With success, one feels freedom.
My next film 'Finding Fenny Fernandes' is a film which is very different. It is an English film and people must be thinking that 'what is this commercial star doing in a small short film like this?' I don't think much, I wanted to work with Homi so I worked with him had a fun time in Goa, I don't think too much about my work, I didn't think about the movies I did.

How was it working with Homi after 'Cocktail'?
I think the transformation which took place with me was also with Homi. Obviously I wanted to work with him again, as the script was exciting. It is not that I got to do an English language film but then I got a chance to work with people like Naseeruddin Shah, Pankaj Kapur and Dimple Kapadia.

Ranveer singh is playing a role in this film?
Yes, he does. He is playing my husband.

If there is nothing between you and Ranveer, that's means, you are single?
Yes I am single.

Do you believe that you are Heroine Number 1?
I don't believe that I am so. It is very good feeling when people tell you that and I sincerely hope that it is more about the work and not necessary about the number that the films that one is doing.
I have always said that box office collections are not something that I value very much. For me the sign of a successful film is that which has a repeat value, the films which I have done, I hope that they have repeat value.

Are you going to hike your price now?
For me films are very extremely creative process. I don't do films for money. Our industry is very small and everyone is aware of everything. I always believed that everyone gets paid for what they deserve and I never like to talk about money.
Recently I also won popular awards for all the 4 films put together. I also met my 'Yeh Jawaani Hai Deewani' makers Karan Johar and Ayan Mukherji and I am disappointed that I am not nominated for YJHD. It was a very special film for me.

How is it going with Shah Rukh Khan in 'Happy New Year'?
I feel great, we have been very lucky in terms of script we have got. It is the kind of the script and characters we get in a film, which enhances our on screen chemistry. I hope that 'Happy New Year' is as special as my previous films.

Is it true that you have now signed on a film with Aamir Khan?
I would like to. But if you are asking me right now, then there is nothing happening right now. As of now like I always say the three people I want to work with are Aamir Khan, Salman Khan and Hrithik Roshan, but I am hoping to tick them out.
Right now I am shooting for 'Happy New Year' after having finished shooting for 'Finding Fenny Fernandes' which will release in the month of July. I will start shooting for Imtiaz's film in June and right now other than this there is nothing else I am doing.

You were a riot on Karan's show 'Koffee With Karan'.
I loved Salman's episode on the show. The best part was when Salimsaab (Salim Khan) came. You will be surprised to know that after my shoot on the show with Priyanka, Karan had told both of us that we were very boring and behaved like nuns on the show.
Follow Emirates 24|7 on Google News.