Deepika Padukone's 'XXX' with Jet Li, Tony Jaa... and Vin Diesel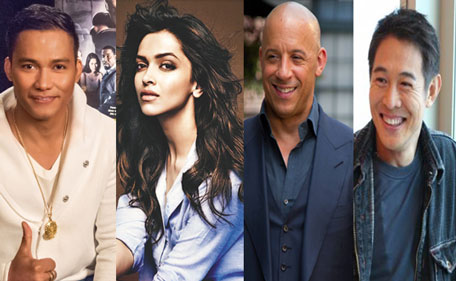 'XXX: The Return of Xander Cage' just added some serious muscle power and mesmerising beauty to its list of international cast.
TwitchFilm reports that Vin Diesel will be re-teaming with his 'Furious 7' costar Tony Jaa.
This international action superstar is not the only force to be reckoned with in the anticipated sequel.
Legendary action hero Jet Li has signed on as well. We cannot confirm whether they will be playing the good guys or the bad guys.
Last month, it was rumored that Bollywood superstar Deepika Padukone had joined 'XXX: The Return of Xander Cage' as its leading lady.
That news has now been officially confirmed, and she will be with Xander and the good guys.
Vin Diesel reportedly wanted the actress to co-star in 'Furious 7', which would have marked her American debut. But the actress had to turn the role down due to prior commitments that couldn't be worked out.
Another new cast member added to the mix is current UFC Featherweight Champion Conor McGregor.
Back in December, Vin Diesel himself announced that Samuel L. Jackson will be resuming his role as Gibbons.
'XXX: The Return of Xander Cage' is the third movie in this action series. The first film was released in 2002 and was a box office success.
Given these casting announcements and Diesel's reveal that the film will be shot in the Philippines, it seems safe to assume this sequel will be set in the Far East.
While Diesel had originally announced 'XXX 3' would begin production this past December, its start date is currently unknown. Either way it's sure to be a busy year for Diesel, as he's also due to shoot an eighth 'Fast and Furious' movie this year with director F Gary Gray.

Follow Emirates 24|7 on Google News.