Dhobi Ghat made double its money: Aamir Khan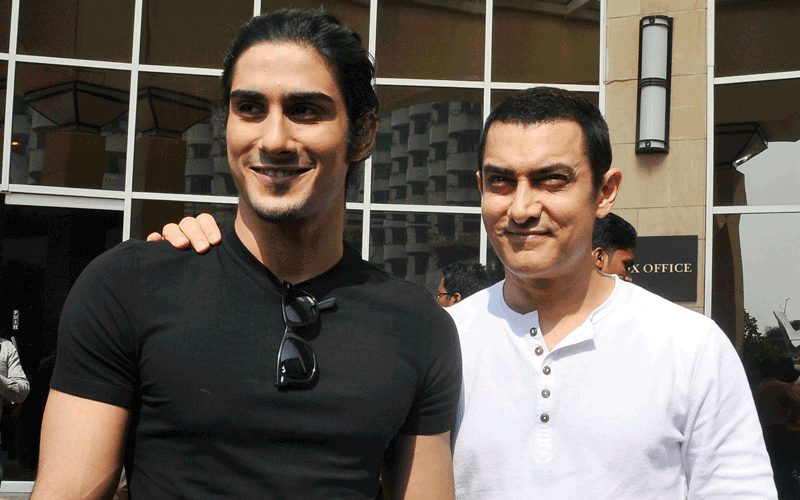 How time changes people. Long ago, when Yash Chopra asked Aamir Khan to do a negative role in "Darr", he had refused.
But he has now signed on for the third film in the "Dhoom" franchise, where he will play a villain. In an interview for Emirates24/7, the superstar actor talks about awards, the Berlin Film Festival and what we can expect from "Dhoom 3". Excerpts:
Salman Khan skipped an award function. Also recently Hrithik Roshan walked out of an award ceremony. So what is your take on the award functions that are held these days?
When it comes to awards I feel I should keep mum as everyone knows what exactly happens. So I will not comment on it.
Are you happy with the box-office collections of "Dhobi Ghat"? Were they what you expected?
'Dhobi Ghat' is an unusual film and the kind of business it has done is what I had expected. The kind of budget in which the film was made, it has earned double the profit. And I was also aware that there will be extreme reaction of the audience for this movie.
But that's because of you. Every movie with your name attached is a success story, be it your home production or otherwise.
Well, I don't think that's true. The credit of '3 Idiots' goes to Raj Kumar Hirani and 'Dhobi Ghat' credit surely goes to Kiran. I am just an actor and I give the work my best shot.
You organized Imran Khan's reception in Mumbai this weekend. Who made it to your guest list?
I have invited one and all, seniors and newbies. I want everyone to come and shower their blessing on the newlyweds.
Tell us about being on the international jury of the Berlin Film Festival?
Berlin Film Festival is fantastic and I am looking forward to watching all the films there. It's a pleasure to attend it and I am happy to be a part of it.
The decision to do 'Dhoom' turned out to be a long wait, why?
I know that rumour mills were abuzz since long but I've signed the film just recently. I could now commit until the whole team was sure. And now that things are into place, I am looking forward to working with Yash Raj and Aditya. And I am quite comfortable with Yash Raj since I've worked with them in the past too (Parampara and Fanaa). Also it would be fun working with co-stars like Abhishek and Uday. We shall start shooting this year or in the beginning of 2012.
So what about "Dhoom 3" really impressed you, Mr Perfectionist, to agree to the film?
I liked the script of 'Dhoom 3' very much because of which I agreed to so the film. I have seen 'Dhoom' and really liked the attitude and music of the film. I found it to be a fun film but had never imagined that I could fit into such a character. But when Aditya Chopra read out the script, it was so well written that I couldn't refuse. Also the characters played by Abhishek Bachchan and Uday Chopra are memorable ones.
The "Dhoom" series have always had biggies of Bollywood playing the baddies, but this is a bit of an experiment for you?
Well, I have played a small anti-hero role in the movie '1947 Earth' which was an offbeat film. But yes this would be the first time that I am going to play a full fledged anti-hero role in 'Dhoom 3'.
In the past series of "Dhoom", we have seen John flaunting his bikes, Hrithik flaunting his dancing skills, what would be your talking point for the film?
My look for 'Dhoom 3' has not yet been decided on. I have to first work on a look for Reema Katgi's thriller film, once I finish her film only then will I work on the look of 'Dhoom 3'. Presently I cannot reveal more, but when revealed it will create a Dhoom.
What about the female lead for "Dhoom 3"?
As of yet the female lead has not been decided on. Adi will take a call on that.
The present trend in Bollywood is that of naming movies after the villains, like 'Ghajini' and 'Raavan'. Would that be the case with "Dhoom 3" too?
No no…the title will remain the same. I liked the title song of Dhoom and this time it might be called 'D3' or 'Dhoom 3' but it is not changed.
Both the previous parts of Dhoom threw up different techniques, what would be new with this one?
Actually I have not seen 'Dhoom 2' but this one is surely going to be different and entertaining. According to me, 'Dhoom' has maintained the franchise of being a film where the villain in every part has a different persona and colour.
Also see:
Bollywood's Akshay, Anushka fly into Dubai

Salman, SRK avoid each other at Aamir's bash

Follow Emirates 24|7 on Google News.