Did Zayn Malik mess up his beautiful face with new tattoo?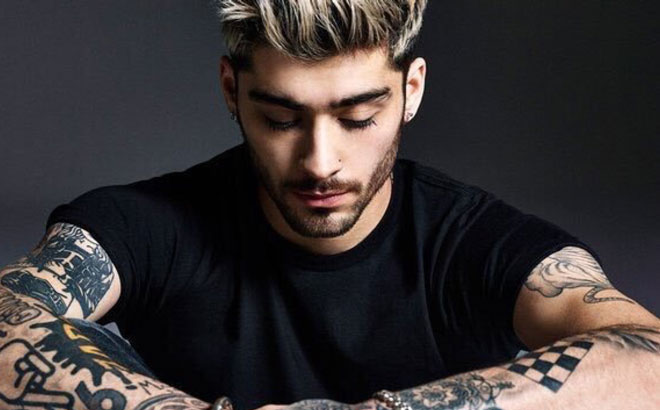 Former One Direction singer Zayn Malik had a big surprise for his followers as he unexpectedly debuted his third solo track, 'Like I Would' on Thursday morning.
Fans are counting down the days until the release of his first solo album, 'Mind of Mine', later this month.
But what followed later was a bigger surprise which soon turned into shock for his legion of fans.
Facebook
Zayn stunned everyone when he unveiled his brand new 'face tattoo' on Friday, causing an internet frenzy.
The 23-year-old singer's daring new body art, is a giant floral design bearing the letters 'M.O.M', referencing his debut solo album, 'Mind Of Mine'.
A Facebook comments reads: "Mate if I had a face like yours I wouldn't **** it up with a tattoo like that." The comment received more than 8000 likes and almost 200 response in agreement.
Fans were in disbelief the pop hunk had 'ruined' his good looks.
Facebook
'Why your beautiful face?', one shocked Instagram follower queried, while another said, 'Tell me it's henna please it has to be' and a third asked, 'Why are u doing this'.
One fan had to say this: "We will still be your fan no matter what: beginning 1d or not, having tattoos or not. But you are a (too) good looking talented man, you do not need those tattoos (especially in the face)."
Giving them hope that the 'tattoo' may not be a permanent piece of body art, Zayn captioned the image, 'Like I Would', referencing his third single from his upcoming album.
Facebook
Zayn, who boasts over 40 tattoos, reportedly spent months planning the artwork.
Going Solo
Zayn Malik has admitted he is 'surprised' that his solo career has taken off following his departure from One Direction.
The 23-year-old singer shocked fans when he left One Direction last March but despite his international fame, he admits he was initially amazed at how successful he is.
Facebook
Speaking to Beats 1 radio, he said: "It was really surprising to me. I kind of didn't set out with the intention to be as successful as it was. When it did well I was surprising myself. With each thing I'm putting out I feel more confident and it gives me new ideas. I just take everything one step at a time."
Meanwhile, the 'Pillowtalk' hitmaker previously revealed he 'always wanted' to leave One Direction.
Facebook
He explained: "I just gave it a go because it was there at the time. I think I kinda always wanted to go. From the first year, I never really wanted to be there in the band. When I realised the direction that we were going in, mind the pun, with the music, I instantly realised it wasn't for me. How do you write a song from five people's perspective?
"I think the boys knew that in terms of the music, that wasn't my cup of tea. When I was leaving the band, they didn't want me to leave. But I'd already made up my mind at that point."
Follow Emirates 24|7 on Google News.