DMI launches the third season of 'The Victorious'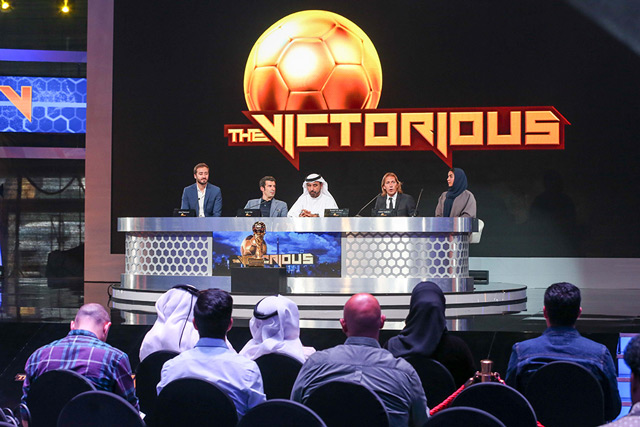 Dubai Media Incorporated (DMI) has launched the third season of 'The Victorious' – the first reality TV show and the region's first football academy dedicated to discovering Arab football talent.
The show will air on Monday March 6, at 22:30 UAE time and 18:30 GMT on Dubai TV and Dubai Sports, featuring thrills and surprises in the world of young Arab football talent and international football fame.
Ahmed Saeed Al Mansouri, CEO of TV and Radio DMI, highlighted the importance of giving Arab players real opportunities to emerge, distinguish themselves, and reach international fame through a show that follows and supports their journey to success. Offering a new take on television culture, the show will serve to inspire younger generations across the Arab world.
Al Mansouri commented: "We seek to forge a new path for Arab television media, by offering our viewers ongoing entertainment, fun and inspiration via a selection of programs aired on DMI's television, radio and digital channels. Today we are taking a step towards a new and meaningful reality TV model, which builds on the massive success of the first and second seasons of 'The Victorious' on Dubai TV and Dubai Sports."
Al Mansouri expressed his confidence in the success of the new season, which will be filmed in Dubai Sports City.
He commented that the third season has reached new heights of professionalism in terms of production and concept, including the improved training programme that the contestants will complete in the hopes of becoming 'The Victorious' winner.
The show is filmed in high-definition, which has been adopted for all DMI-produced programs and offers a crystal clear image enhanced by special effects and other state-of-the-art filming techniques.
Rashid Al Amiri, Channel Manager Dubai Sport, described the key objectives of the new season at a press conference held by DMI in Dubai Sports City. In addition to being the first reality TV show and the first international football academy dedicated to discovering Arab football talent, the show provides young stars with the opportunity to win a significant cash prize, improve their skills through an intensive boot camp in Dubai Sports City, and fulfil their dreams of playing with leading international clubs.
This will turn the show into a fully interactive television project, with weekly episodes showcasing every step of the training, development and competition stages.
The show also sheds light on the UAE's flourishing sports scene, incorporating a challenging training programme that highlights the advanced skills of the region's players and the developed infrastructure of its growing football industry.
Viewers will be able to follow daily episodes to watch the players undertaking demanding programmes prepared by a group of professional trainers who specialise in health, nutrition and fitness.
The show will also feature an international football star guest each week, in addition to a highly skilled team of trainers, supervisors and other celebrated football stars from around the world.
The panel of judges will include Saudi player Khalid Al-Shenaif, international football player Mohamed Zidan, and world foorball star Michel Salgado.
The new season's episodes will be presented by TV host and former basketball player Nathalie Mamo and social media celebrity Sherif Fayed.
Jehad Al Muntasser, former international football player and creator of the show, explained the show's rigorous selection process, which scoured the Arab world and saw the program's team touring Saudi Arabia, Morocco, Egypt, Algeria, Lebanon, Jordan, Libya and the UAE to find the best upcoming talent.
He added that the competition will be fierce among applicants; the selection rounds alone attracted 10 thousand submissions from a variety of Arab countries and cities.
Selections were made according to a strict code of standards set by the commission, which has a keen eye for detail and a clear idea of the qualities required for contestants to excel in this competition.
Al Muntasser thanked DMI for creating a platform that will display promising Arab players and allow them to shine on the world's beloved football scene. He also confirmed that international football stars will appear in each episode, including Alessandro Del Piero, Roberto Carlos, Luis Figo, Steven Gerrard, Carles Puyol, Ronaldinho, Brazilian star Ronaldo, Michel Salgado and Paul Scholes.
They will participate in training, advising and counselling the contestants, and also offer astute observations informed by their extensive experience. This will provide contestants with the opportunity to meet their heroes and gain a unique insight into their playing styles, ball technique, fitness regimes and coping strategies for handling the pressures of international fame.
Al Muntasser concluded by recalling the great opportunities the program gave first-season winner Youssef Al Watani from Morocco and second-season winner Ayman El Ghobashy from Egypt, including significant cash prizes and the chance to play with acclaimed European clubs.
Luis Figo, former Portuguese football star, commented: "I feel proud to be a part of 'The Victorious' Season Three, which is set to be the most exciting yet, and I am delighted at the prospect of working closely with football players in the Arab world. We're meeting today to discuss this great TV show, and I would like to take this opportunity to thank DMI for providing me with the chance to be followed by millions of viewers in the Arab world and across the globe."
former Spanish football star Michel Salgado, who will be managing the trainers in the new show, discussed the set of tests that the candidates will undertake during the "great competition."
These will include individual tests, sprint races, penalty coaching, and playing in a variety of formations.
Following the initial training stages, the candidates will move to Dubai for final evaluations including medical and psychological tests.
The competition will then unfold over multiple phases focused on fitness, ability, speed, team play, leadership, initiative, play tactics and strategy, as well as mental strength and stress management.
All of these challenges will take place under the supervision of elite coaches and specialists from all sports categories.
A total of 40 contestants will present their abilities and qualifications during the first and second episodes of the show. 20 contestants will then be selected to graduate to Dubai Sports City, where competitions and trials will kick-off under the watchful eye of experienced trainers.
Play-offs will follow over the next nine episodes, with six contestants competing in each episode and members of the blue and yellow teams voting to save one of their own players.
The judges will then vote to save another contestant from each team, reaching the semi-final episode that will qualify contestants to win the grand cash prize of USD 100,000 and the chance to play for an international Spanish club.
Sara Al Sayegh, Director of Marketing and Corporate Communications at Dubai Media Incorporated (DMI), thanked the sponsors of the third season of 'The Victorious' and acknowledged that the success of the show is down to its supportive viewers.
Their interaction with the new players in the program, which is the first and only in Arab television, is crucial for its ongoing popularity.
DMI has initiated a comprehensive campaign across UAE and KSA for the show across various social media platforms, also incorporating outdoor advertising and indoor advertising featured in malls and other high profile locations.
Throughout the season DMI will also be launching viewer events and competitions through its social media platforms.
Follow Emirates 24|7 on Google News.