DSF 2013's must-see list: Top events this shopping season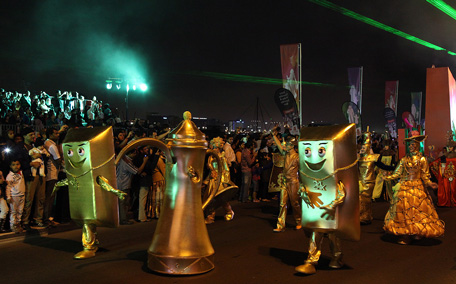 The month of splendid shopping deals and terrific raffle draws is already on. There's also a whole lot of entertainment scheduled. If you haven't caught up with them till now, here's your opportunity to do so now.

With so many exciting events planned around this shopping season, it can be quite nerve-wrecking to choose which ones to go for. So, we at Emirates24|7, make the decision-making a tad easier for you.


We pick three of the best of the lot. Here are our recommendations…

Italian Circus

A spectacular show of fun and laughter awaits visitors at the Italian circus.

Pitched at the Festival Promenade at Dubai Festival City, the two-hour-long programme showcases some breathtaking acts, never-before-seen tricks, funny antics and a host of talented performers from around the world.

The show has over 15 acts including tightrope walkers, balance tricks on bicycles and unicycles, trapeze artists, gymnasts and acrobats.

Italian Circus has more than 27 world-class performers from Columbia, Spain, Mexico, Czech Republic, Germany, Slovakia and Italy.

Two shows, one at 6pm and another at 9pm are scheduled every day. Tickets are available at the main entrance gate and are priced at Dh50, Dh75 and Dh100. For more details dial 056-3601271 or 055-2261265.

Water, Fire and Light show

Witness a marvelous show of water, fire and light.

Presented by the Prague Philharmonic Orchestra, the shows will be held twice (8pm and 10pm) at the Dubai Fountain in Burj Lake and four times (6.30pm, 7.30pm, 8.30pm, 9.30pm and an additional two shows over the weekend) at the Festival Marina of Dubai Festival City Mall.

It exhibits a water fountain that spurts 30-meter high aquatic displays as well as 20 flame jets, and features an iconic 130-meter-wide water feature complemented by two 40-meter wide giant water screens that project striking laser shows and image presentations.

DSF Carnival

The Al Seef Street comes alive during the weekends with the vibrant DSF Carnival.

Numerous performers in various disciplines unite to showcase a fantastic display of festivity to reflect the DSF's theme of "One World – One Family – One Festival".

Decked in festive colours, the creek-side is witness to a colourful parade of jugglers, stilt walkers, unicyclists, acrobats, clowns, marching bands, musicians and a variety of other performers.

They enthrall the crowd with their skill, dexterity and expert performances.
Follow Emirates 24|7 on Google News.