DSF opens today and your guide to winning big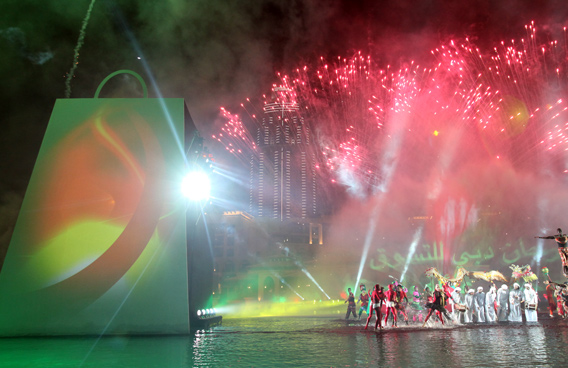 If last year's festive spending hasn't hit you as yet, then allow those bills to stew on the backburner as you loosen those purse strings yet again for the next edition of the Dubai Shopping Festival.

The month-long extravaganza, which kicks off today amidst much fanfare and even glitzier prizes, is dangling the proverbial carrot with cash, cars and kilos of gold to lure in shoppers to take advantage of the millions of dirhams in discounts or try their hand at raffles galore.

Running until February 5, this is hardly a month where anyone can rain on your parade, as Emirates 24|7 gives you the lowdown on the top wheels, deals and entertainment spectacles that will make this 17th edition of DSF even more exciting than before.

Win, win, win…

Infiniti Mega Raffle

Organised in cooperation with AW Rostamani, the Infiniti Mega Raffle will include daily draws during the festival where each winner will take home a luxurious Infiniti QX56 model worth Dh350,000.

And that's not all; also included is Dh100,000 in cash.

Additionally, three bonus winners will be drawn as part of the bumper raffle on the final day of the 17th edition of DSF.

Each ticket is priced at Dh200. The raffle tickets will be available at select Enoc and Eppco fuel stations and at kiosks set up at streets across the city, in malls and stores.

Winners of the daily raffles will be drawn between 10pm and 11pm every day at the Burj Steps Arena alongside the Burj Khalifa as part of a live entertainment show, with the results broadcast to the public by Sama Dubai.

Nissan Grand Raffle

Things are just as grand at the Nissan Grand Raffle where shoppers can win one of eight Nissan models daily with every minimum purchase of Dh20 at Enoc and Eppco service stations and Zoom.

It really doesn't get easier than this. Up for grabs are the Nissan Tiida Sedan, Tiida Hatchback, Altima Sedan, Juke, Qashqai, Xterra, Murano, and Patrol.

Winners of the daily raffles will be drawn between 10pm and 11pm every day at the Burj Steps Arena alongside the Burj Khalifa as part of a live entertainment show, with the results broadcast to the public by Sama Dubai.

Bag of Fortune Gold Raffle

All that glitters is certainly gold in this city of shoppers in Dubai. Those of you who want to top up the bling have the dream opportunity to win a total of 19kgs in gold this DSF.

For every purchase worth Dh1000, shoppers have the chance to win half-a-kilo of gold every day.

To add to the excitement, an additional three kilos of gold will be given away on the last day of the festival.

And wait, there's more. With every purchase of diamonds, pearls, or watches worth Dh1000, shoppers get scratch cards to win instant cash prizes. A total of Dh2 million is being given away as cash prizes.

Shopping malls serve up DSF delights…

Accompanying super saver offers are amazing shopping rewards across the participating malls this DSF.

Head to BurJuman and shoppers have the chance to win Dh25,000 worth of shopping vouchers in three weekly draws. Plus customers also have the chance to drive away in a luxurious BMW X5 at the end of DSF.

Spend qualifier is just Dh200 and weekly draws will take place on January 12th, 19th and 26th. The grand draw will be on February 6.

Meanwhile, Majid Al Futtaim's flagship mall trio, namely Mall of the Emirates, Deira City Centre and Mirdif City Centre are all set to offer some hardcore retail therapy this shopping season, with enough bags of goodies to even forget your festive spending of last season.

Before you scratch your head, we are talking up to Dh1 million in prizes to be won. How it works is simple enough: during this DSF month, shoppers spending a combined total of Dh300 across the three malls will get the chance to win weekly shopping sprees worth Dh250,000.

Meanwhile, Deira City Centre is also running creative fashion workshops for kids during the day where budding fashionistas can style up and get their photo taken. Parents can then download photos as a keepsake from the Deira City Centre Facebook page, and get the chance to win a Dh500 gift card daily.

Shop till you drop…

DSF Night Souk

The popular DSF Night Souk makes a comeback this year on Al Rigga Street, with numerous retail outlets display various brands and remain open late till after midnight to give shoppers a unique shopping experience.

Goods on sale include watches, bags, clothes, electronics, jewellery, home appliances, and much more.

Apart from excellent bargains, the Night Souk hosts various eats and treats so that visitors can conveniently grab a quick bite and enjoy as they indulge in long hours of shopping at leisure.

Carpet and Arts Oasis

This unique annual bonanza, which now draws in thousands of tourist and visitors from all around the world to Dubai, will be held at the Airport Expo Dubai, West Hall this year.

On offer is a treasure trove of carpets, with traders from all over the world offering good value on a comprehensive range of floor coverings.

It covers a massive space of 12,000 square metres and contains around 100,000 carpets from around the world, including products from Iran, Turkey, Pakistan, Afghanistan, China, and East Europe.

There are thousands of unique, exclusive, handmade, oriental and Persian carpets and rugs from around the globe. Carpet Oasis also offers a large collection of antique souvenirs.

Mall mania

Bumper deals and draws are also on offer across Dubai shopping malls, with BurJuman leading the way with striking deals ranging from 25-75 per cent in deep discounts that cover fashion and lifestyle brands.

Meanwhile, MAF is offering more than 1,320 shopping options across its three malls.

Landmark Group's Babyshop, the retail concept and a one-stop shop for children's products, is set to offer up to 60 per cent discount on its latest winter collection during DSF.

The 'part sale' offer will be available at Babyshop's stand-alone stores in Deira, Karama, Dubai Mall, Oasis Centre and Ibn Batuta. The part sale also extends to (select) stores in Sharjah, Abu-Dhabi, Al Ain and Um Al Qwain, excluding Centrepoint stores.

Entertainment extravaganzas

Fireworks by Al Zarooni

What is DSF without a daily fireworks show, hosted by the Al Zarooni Group.

Today's opening day will show a10 minute spectacle that will light up the sky over the Dubai Creek, followed by daily razzle and dazzle throughout the month at 8:30pm.

Ujala Asianet Film Awards 2012

On January 6, Dubai Festival City will play host to the 14 the edition of the Ujala Asianet Film Awards ceremony, organised by the Malayalam TV channel.

The Asianet Film Awards is presented annually to honor the artistic and technical excellence in Malayalam Film industry.

Confirmed on the red carpet are Vidya Balan, Asin, Jaya Prada, along with Southern superstars Mammootty and Mohanlal, Dileep, Prithviraj and Jayaram.

And fans of the viral hit, "Kolaveri Di" are in for a treat because singer, actor, producer, Dhanush, is slated to perform at this event.

Tickets are priced at Dh1000, Dh500, Dh200, Dh100, and Dh50.

The Return of the Shaolin Monks

They came, they saw, they conquered new fans. And now they're back, with more death-defying feats and a set of stunning performances that reflect the loud and colourful celebrations of the Chinese New Year.

Don't miss the death defying performances by the Shaolin Monks at the Mirdif City Centre from January 9 until 18. Shows are at 6.30pm, 8.30pm and 9.30pm in the Central Galleria.

New Year Concert featuring Mohamad Hamami, the Sharq Orchestra, and Charbel Rouhana

The stage is set on January 13 at Dubai Community Theatre and Arts Centre, Mall of the Emirates to catch Mohamad Hamami and the Sharq Orchestra once again to mesmerise audiences, this time returning with the exciting guest performer Charbel Rouhana to enthral and entertain.

Rouhana is regarded by many as Lebanon's finest oud player; this will be his second appearance with Sharq, and the combination of their masterful playing and the charismatic leadership of Hamami will once again be compelling and mesmerising.

This special New Year Concert will feature captivating interpretations and unreserved performances of Arabic classics and their own compositions.

The show kicks off at 8pm, with tickets priced at Dh500, Dh300, Dh200, Dh150 and Dh50 for students. Call: 04 341 4777

International Kite Festival

Being held on January 13 at the Dubai Outlet Mall (we assume its outside), three international kite teams will take to the skies to display around 30 different kites. Event also features kite workshop for kids and a fun fair. Part of the proceeds will go to a school for special needs children.

From 9am to 5pm, tickets are priced at Dh30, Dh50 and Dh80. Call: 055 3564576

Ello Ello' – The Dinner Show

If you loved one of the most loved sitcoms of all time, "Allo Allo" then this dinner theatre is right up your alley.

From January 17 until 21, catch your favourite characters while you dig into a gastronomical delight at the Courtyard by Marriott, Green Community for this interactive dining experience this DSF.

At 7pm every day, with special lunch performances on January 20 and 21 at 1.30pm.
Tickets are priced at Dh395

Ismat Apa Ke Naam - Indian Theatre Show

"Ismat Apa Ke Naam" is an Indian theatre act based on three short stories by famous Urdu Writer, Ismat Khanum Chughta, which is also directed by veteran actor Nasseruddin Shah.
Acting alongside him is popular actress and real-wife Ratna Pathak Shah.

What promises to be a scintillating performance, grab your tickets while you still can.

Tickets for the two-hour show are priced at Dh150, Dh250, Dh350, and Dh500. Call: 04 341 4777). Show begins at 7pm.
ALSO READ:
Follow Emirates 24|7 on Google News.