Dubai Jazz Festival: James Blunt makes fans go crazy [video]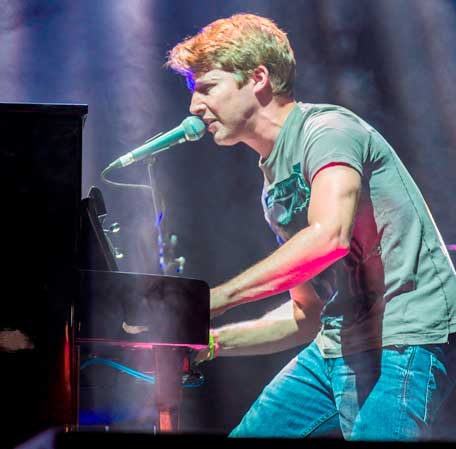 "You're referring to when I did a very silly agony aunt column for a couple of newspapers; they were only meant as a joke and I hope no one ever follows my advice, or else I might end up being sued!" quipped James Blunt while speaking to Emirates 24|7 before his concert in Dubai.
The award-winning multi-platinum singer and songwriter who headlined the 13th edition of the Emirates Airline Dubai Jazz Festival, displayed a truly seamless performance following American Christina Perri's breathtaking show that kicked off the 3-day festival to a packed Dubai Media City Amphitheatre on Wednesday.
Supplied
The 41-year-old English singer, songwriter and musician, Blunt, burst onto the music scene 10 years ago serenading millions with his hit 'You're Beautiful'. He is also well-known for his quick wit and sharp sense of humour -he clearly incorporated this into his unique stage presence as he told jokes throughout his set.
Pic: Amal Al Jabry
He told the excited Dubai crowd: "I need to tell you what's been going on, the whole world production, the whole world tour with all the lights, from China, to North Europe, to North America, to Australia, all of those have been a practice, for the important people, which is you, here in Dubai!"
James hardly left the stage, with continuous guitar switches per song as he belted out his greatest hits from all his Back to Bedlam to Moon Landing.
Pic: Amal Al Jabry
Interestingly, his 4 albums have a 3 year gap in between.
"I always take 3 years to make an album," said James.
He added: "Because it takes me a year to write and record, then I promote it for 6 months, I then tour it for 18 months."
Pic: Amal Al Jabry
He continued: "That leaves me 1 day to go wash my clothes, and get back to making another album."
Blunt described his last album Moon Landing as one that's more personal.
"I went back to find the man who wrote my first album Back to Bedlam 10 years ago, Tom Rothrock, we locked ourselves in the studio for 1 year, the album sounds old school, retro, nostalgic and lonely and that's why we called it Moon Landing".
He added he's grateful for all the fans turning up at his shows on a weeknight, showing the love for his music.
When quizzed about what he thinks of Dubai's music scene, he said it's a great spot for many things, and he showed his naughty side once more as he retorted his dislike of a crooner set to arrive next month.
"There's a socking great poster of Michael Buble over the stage. I've asked if they'll cover it up for the show," he quipped.
He added: "I think Dubai's a great spot for many things. People are coming here for so many things, and when you've got an audience who are in love with the music, it's great."
The Dubai Jazz Festival continues for two more days with the legendary Sting tonight, and John Legend on Friday.
Follow Emirates 24|7 on Google News.