Dubai RJ Nyla Usha: New face of Malayalam film industry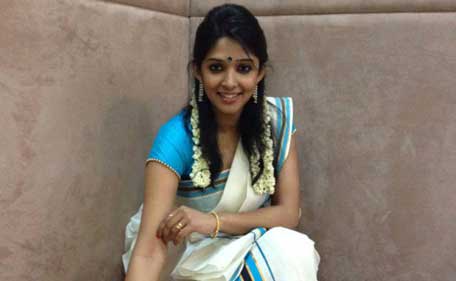 RJ Nyla Usha from Dubai's Malayalam FM station Hit 96.7, host of the Big Breakfast Club (BBC) programme, is the new star of the Malayalam film industry in India.
Nyla hosts the fun filled infotainment morning show, BBC, which is followed by thousands of Keralite listeners.
After chirping, laughing and crying on air for ten years, Nyla has now joined the league of big heroines in the Malayalam film industry, starring in memorable roles opposite big names.
Her third movie, 'Gangster', will see Mammotty as a don alongside Fahad Fasil and Shekhar Menon.
With three movies in her kitty, playing lead roles in two opposite Mammotty, Nyla is the next big thing in Malayalam film industry.
For Nyla it is a childhood dream coming true to work along with superstar Mammotty. She is tight lipped about her role in the upcoming thriller movie 'Gangster'.
"As a child I wanted to star in movies and I used to admire Mammotty but my family was never interested in my film career.
"As an RJ, I have always been skeptical about many superstars but when it came to playing a heroine's role in a full length movie, it was a new challenge for me. Mammotty has in fact encouraged me a lot to get familiar with the shootings."
Her second movie, 'Punyalan Agarbathis', is running successfully in Kerala and playing to housefulls during weekend shows in leading cinemas in Dubai and Middle East.
'Punyavalan Agarbathis' starrs superstar Jayasoorya and heroine Nyla.
Nyla who started her career as a not-so-famous television presenter in Asianet Television paired well with Jayasoorya.
"Jayasoorya is a very down to earth person, who used to sleep on the floor in a building under construction where part of the shooting took place.
"He used to tease me that after acting with a superstar like Mamootty, which he equates to driving a BMW car. I have entered an old Ambassador car (acting with Jayasoorya). However, the movie turned out to be a big hit, especially where the movie is set." she added.
Her film career graph is skyrocketing, with new offers, which she is reluctant to accept due to her tight schedule.
Even though the Malayalam film industry doesn't pay well its female stars, Nyla will continue to remain in the silver screen as she is enthused by the positive feedback from her fans.
She remains a hard-core RJ and wants to maintain her friendly relationship with the Dubai crowd: "My listeners have been hearing me patiently for many years. As an RJ who interacts with them on a daily basis, they feel as if I am part of their family. I am thrilled that they are sending me positive feedback after watching my movies.
And I hope to remain in the celluloid for some more time, even though it is not for monetary gains," she said.
Follow Emirates 24|7 on Google News.