Dubai Shopping Festival 2016: Opening week; shop and win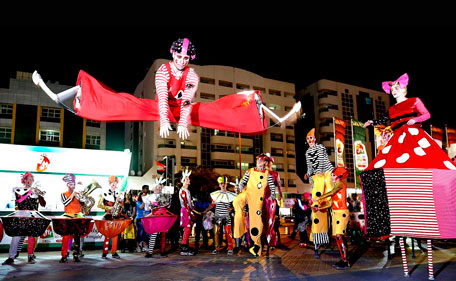 Dubai Shopping Festival enters an exciting new era after two decades of success with its 21st edition from 1 January to 1 February set to offer extraordinary experiences to residents and visitors from around the world that will highlight the festival as the world's most unique shopping experience.
DSF 2016 will run under the tagline 'Unwrap The Exceptional' with over 150 events and activities that will be unfurled during the 32-day celebration.
DSF 2016 will elevate the festival's three main pillars of Shopping, Winnings and Entertainment.
DSF OPENING WEEKEND
DSF Global Village World Party
January 1-2, Global Village
A series of activities will take place during the two days (Jan 1 and 2) in Global Village that collectively will showcase the concept of the DSF Global Village World Party, including non-stop entertainment throughout pavilions and main stage over the course of two days and bespoke main stage shows.
Global Village will also have roaming entertainment as well as a live painting of 'DSF Big Picture'. A spectacular firework show on January 1 will launch the series of fireworks displays at Global Village during DSF. Global Village will also be holding a social media competition to allow five families the chance to win luxury rides to GV during DSF. Guests can also kick-off the DSF Mega Raffle season to add to the winning element to the world party.
12 Hour Exclusive New Year Shopping
January 1-2
A special promotion running on New Year's Day at Majid Al Futtaim Malls across Dubai to ring in the New Year and Dubai Shopping Festival.
This exclusive New Year shopping experience will include a private sale from 12pm – 12am allowing 80-90% discounts at all retail outlets within Mall of the Emirates, City Centre Mirdif, City Centre Deira, City Centre Me'aisem. Shoppers can also expect DSF exclusive rewards, promotions and offers for 12 hours, while F&B outlets will offer their own rewards and offers.
Shoppers will be encouraged to shop and enter a lucky draw to win an amazing prize worth Dh50,000 that will allow the winner to go on a shopping spree at Majid Al Futtaim Malls during DSF. With every Dh200 a customer spends they will be entitled to one raffle coupon which they can enter into the draw. The raffle draw will take place at 12 pm at Mall of the Emirates on January 2.
RETAIL-THEMED ACTIVATIONS
Beauty District
January 2- 8, The Fashion Catwalk, The Dubai Mall
The main event under the Beauty Theme is Beauty District, a purpose designed location that will satisfy all the shopaholics visiting Dubai. Retailers will be doing their own activations during the week in keeping with the beauty theme, with launches of products and lots of tutorials on how to get the most out of your makeup.
This themed period will also feature the region's top beauty influencers. Shoppers can also use the 360 degree Glam Cam once they are done beautifying themselves to take a 360 picture of their new look.
Shoppers in the Beauty District will be able to enjoy lots of goodies and workshops on makeup and beauty tips, adding to their shopping experience with lots of activations.
Of course, they can also find great in-store activations across the city as stores showcase their wide range of beauty products.
DSF 2016 MAIN EVENTS
6 – 9 January, Sheikh Rashid Hall, Dubai World Trade Centre
'Al Faris' (The Knight) is an epic musical production that will be performed by renowned Lebanese singer Ghassan Saliba and popular Emirati singer Balqees Fathi.
The play has been developed to promote Arabic language theatrical performances and cultural awareness in the UAE, with the main themes of the play inspiring courage, leadership, wisdom, and philosophical thinking.
Historical Districts
January 1 – February 1,
Al Fahidi Historical Neighbourhood, Gold Souk
Three locations, known as the Historical Districts on either side of the Dubai Creek (Bur Dubai and Deira) will be dressed up with simple lighting and décor.
Each location will offer a mix of customized concept events and entertainment with retail activations and community engagement opportunities. The event activation ideas will uplift the selected historical area to create a unique experience specific to the area.
A main attraction will be the Creek Chic, a vintage market featuring vintage fashion, furniture and art all promoting the appreciation of a new shopping aesthetic in the UAE.
This community event will serve as a platform to promote vintage & antique retailers, allowing businesses to gain greater audiences and regional recognition.
Carpet & Art Oasis 2016
December 20 2015 – January 15 2016, Dubai World Trade Centre
One of Dubai Shopping Festival's longest running activations, the Carpet & Art Oasis 2016 will bring one of the world's largest exhibitions of hand woven carpets. To be held over an area of 6,000 square meters, the Oasis will include 54 pavilions spreading over 4,000 square meters. This year's Oasis features as many as 250,000 exquisite silk and wool rugs at an estimated market value of Dh2 billion, crafted in leading rug-making countries; Iran, India, China, Turkey, Azerbaijan, Pakistan, Afghanistan and Turkmenistan.
Follow Emirates 24|7 on Google News.