Dubai Side Effects: Vidya Balan, Farhan Akhtar reveal marriage secrets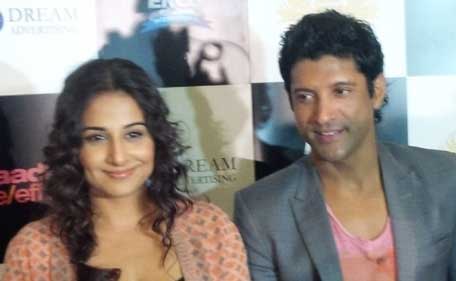 If you have seen the promos of 'Shaadi Ke Side Effects', then perhaps the most telling scene is one catching its lead pair, Farhan Akhtar and Vidya Balan, bickering over the 'right' side of a towel.
In this eternal war of the roses, the yin and yang of a married couple takes centrestage with both stars admitting that the characters they play in the film "was very relatable" said Farhan, while Vidya confessed to be nervous about starring her first bona fide romantic comedy.
In Dubai amidst a promotional blitzkrieg for the film, which releases in UAE cinemas on Thursday, we confirmed with the talented Vidya whether it was true that she didn't exactly leap at the film like Farhan had when he first heard the script.
The actress did not deny this, saying: "It's true, but I normally take time to say yes to a script. I read it, re-read it, spend time with the director. It's a process.
"The thing is when I say yes to a film, I give it all that I have. And I don't want to be in a situation where midway through the film I feel differently. It has happened before."
Refusing to divulge in the name of this unsaid film, even with Farhan requesting her to confess in a sidebar to play charades, the award-winning actor himself opted for a more light and engaging script after his 18-month marathon (pardon the pun) of endless training for essaying the role of real-life runner Milkha Singh in 'Bhaag Milkha Bhaag' last year.
"It wasn't a conscious decision to take on a lighter project after the gruelling schedule I endured for 18 months in my previous film," states Farhan, adding: "Rather, I met the director and producer of 'Shaadi...' and the story struck a chord somewhere. It made me laugh and I wanted to know what happens in the end; I guess, I connected immediately."
So, what are the side effects of a marriage?
A newly married Vidya (she tied the knot with UTV head Siddharth Roy Kapur last year) says: "Trust is the basis; that needs to be a side effect."
To this Farhan quips in to say: "You make it sound like you are building a relationship with a bank. 'Trust me and hand me that cheque'."
"No! To let each other be, respect or trust. That is the secret of a marriage," she laughs.
Farhan adds: "I think once in an earlier interview, Vidya had used the word 'unconditional'. Love or trust, you accept them for who they are. That is the key."
As two of India's leading film stars, the roles in 'Shaadi..,' has probably turned the duo into marriage counsellors, dishing advice to couples on the secrets of happy married life.
Farhan jumps in to say: "We are constantly asked to give advice, even though we are no experts in the matter, aside from being married ourselves."
"I almost feel that our respective spouses are now a part of the film's lead stars, as their names crop up at nearly every interview with people wondering whether some the scenarios of the film are based on our real lives," laughs Vidya. "But even so, I always tell people don't give advice. That is the secret of a successful marriage today."
Before the duo jetted off, we did ask them to finally resolve the mystery that, as Farhan so eloquently puts it in the film promo that even Einstein would be stumped in which is the right side of a towel.
Quiz the duo and Farhan says: "I am the person struggling in the film, ask the expert."
To this Vidya replies: "Not the wrong side is the right side."
Staring at our puzzled faces, the exasperated actress finally says: "The one with the tag is the wrong side. How can you not know this?"
Errr...
Farhan adds: "I have kids. And kid's towels have the right and wrong sides. Kid's towels have designs on one side; the one which is more velvety is the wrong side as its less absorbent..."
"Yes, I used to be on diaper duty when my kids were younger," he confessed.
Follow Emirates 24|7 on Google News.