Duchess Catherine excited about royal wedding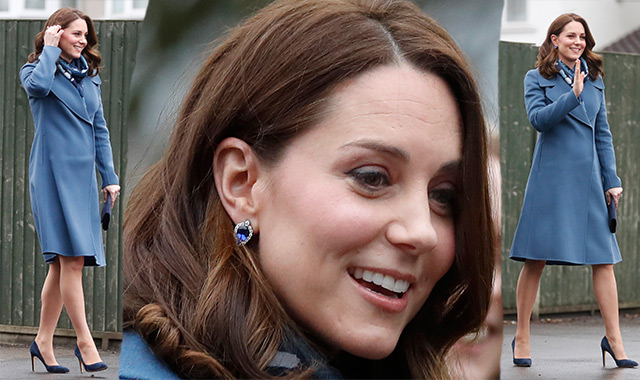 Duchess Catherine is "excited" about Prince Harry and Meghan Markle's upcoming nuptials as well as Princess Eugenie and Jack Brooksbank's wedding too.
The Duchess of Cambridge can't wait to see her brother-in-law and his fiancé walk down the aisle in the May ceremony and is also equally excited about Princess Eugenie's marriage to Jack Brooksbank.
Asked by a member of the crowd, who gathered to watch the Duchess visit a new addiction treatment centre in Essex on Wednesday (07.02.18), if she is looking forward to Harry and Meghan's wedding, she said: "Yes and now we have two with Eugenie's. It's very exciting."
Not much is known about the royal wedding but a source previously revealed Geri Horner is keen to see The Spice Girls perform at the event.
The source said: "Geri suggested the Royal Wedding is a fantastic opportunity, and that they should offer to perform at the reception. She has been told that Meghan was a big fan of the Spice Girls.
"And the wedding fits in perfectly with Geri's idea that the reunion should be very British. She sees it as a big part of their identity, and one they should keep. But at the moment the girls are not all decided on the topic of performing. And surprisingly it is Mel C, not Victoria Beckham, who is refusing to get on stage.
"Despite reports to the contrary, Victoria is now quite proud of the Spice Girls and their achievements. She feels strongly that if they reunite, they will have to perform. Mel is not so sure she wants to go down that path and will need some persuasion if they are to sing together again."
And Prince Harry and Meghan are expected to have half as many guests as Prince William and Duchess Catherine did at their wedding.
Royal expert Alastair Bruce said: "It's very much a matter for the bride and the groom. The thing about Prince Harry is that he's not seen to be in the direct line of succession, and therefore the pressure on him to invite the long list of people, who had to be asked to the wedding of the Duke and Duchess of Cambridge, is not present."
Follow Emirates 24|7 on Google News.