Duchess Kate a 'style inspiration' for Meghan Markle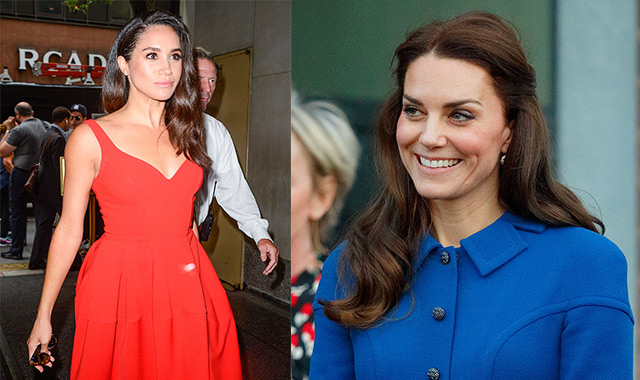 'Suits' actress Meghan Markle is increasingly following the Duchess of Cambridge's taste in clothes, an expert has claimed.
The 'Suits' actress has been dating Prince Harry since mid-2016, and the evolution of her wardrobe has led to suggestions she has been inspired by the Duchess.
Naomi Isted, a celebrity style expert, told Express.co.uk: "Meghan's style has always been quite feminine slightly sexy, yet we have been seeing a much more polished and tailored version of late.
"Meghan's recent looks are sleeker just as we saw Kate's style evolve into much more tailored and chic looks, Meghan seems to be following suit."
Naomi explained that it's easy for Meghan to copy the Duchess because they have certain physical similarities.
She said: "They have very similar body types and naturally as the relationship grows so will her wardrobe into a very defined look just as Kate's has become super sleek, tailored and every inch the modern-day princess."
Earlier this week, meanwhile, it was reported that Prince Harry is set to move in with Meghan.
The flame-haired royal is apparently keen to settle down with Meghan and has, therefore, made plans to live with his girlfriend next door to his brother Prince William.
Prince Harry has also been taking a keen interest in the renovation work going on at their new apartment at Kensington Palace.
A source said: "He keeps popping round and asking when it will be ready. He seems in a real hurry to move in with Meghan."
The couple's supposed new apartment is close to where the Duke and Duchess of Cambridge will call home from September.
The source added: "It's sweet that Harry and Meghan will be living next to William and Kate."
Follow Emirates 24|7 on Google News.