Emilia Clarke admits being blonde has 'killed' her hair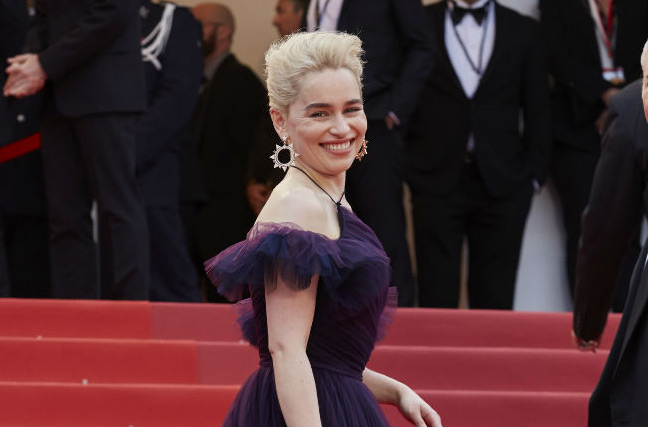 Emilia Clarke revealed that since dying her brown locks peroxide blonde, the bleach has 'killed' her hair and now she's caught between growing it out as she loves "long hair" or cutting it even shorter.
The 31-year-old actress wore a wig in the early days of the fantasy drama series Game of Thrones - in which she plays Mother of Dragons Daenerys Targaryen - but dyed her locks platinum blonde in recent seasons and admitted she's now desperate to get back to her natural brown because the harsh chemicals used to get the right tone have damaged her tresses.
Speaking to America's Harper's Bazaar magazine, Emilia said: "So I've cut it a little bit shorter. It's almost the shortest it's been. I'm honestly trying to grow out the blonde, because it's just killed my hair, and I miss having nice hair! I do like the length but I wish my hair was longer.
"I do bloody love long hair, but then I'm always dreaming of cutting it all off and having a pixie cut - but I don't know that my face could take it."
The 'Star Wars' actress admitted that "maintaining" her enviable blonde locks is all about having the right products and her go-to's include a high-street $28 hair perfector.
Emilia added: "Olaplex - which I'm sure people bang on about all the time - it's really good. Sometimes I sleep in it.
"There's this other amazing brand called Iles Formula, and that shampoo and conditioner is amazing. And then the Elasticizer, by Philip Kingsley, brilliant. I'm taking it all!"
Emilia takes her skincare incredibly seriously and never skips out on her morning and night routine because it gives her the confidence "to wear less make-up".
She confessed: "I was really lucky; my mum always drilled it into me to cleanse, tone and moisturise, wear SPF, and don't wear too much make-up - and your skin will be good. And don't pluck your eyebrows.
"Those were the basics that I was brought up with. But what I found with my own way within it, is that I get really into the rituals and the routines of it.
"So the morning cleansing, toning and moisturising is like taking a bit of time to bring yourself into the day and have a little breath - which I do really like. But it definitely takes more confidence to wear less make-up."
Follow Emirates 24|7 on Google News.