Emma Bunton and Geri Horner still plotting Spice Girls reunion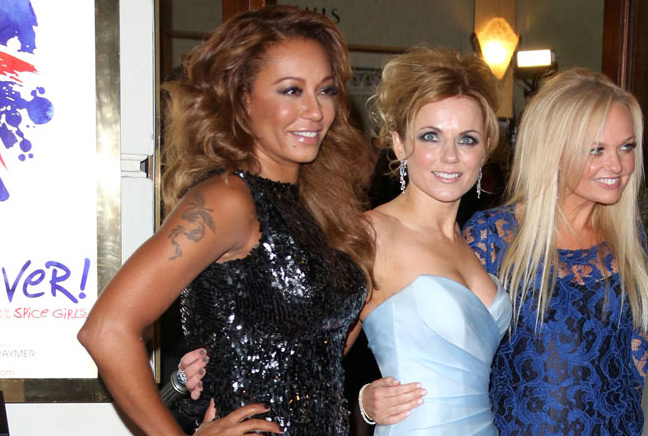 Emma Bunton has revealed she and Geri Horner are still hoping for a Spice Girls reunion to be staged.
The 41-year-old beauty - who was known as Baby Spice in the girl group - has revealed that she and Geri Horner [Ginger Spice] are doing all they can to ensure the 'Viva Forever' hitmakers' make a comeback, but she admits it's hard to marry up their schedules.
Emma - who was also joined by Mel B, Victoria Beckham and Melanie C in the 90s band - said: "We're always talking about it. I think it would be amazing, so I'm on the case and Geri's the same."
On what's holding them back, she told The Sun newspaper: "It's about finding the perfect time. We want to make it right for our fans. But it would be a shame not to do something."
The blonde beauty would like them to release a greatest hits record and perform again, but she says if it doesn't happen sooner rather than later, they'll be too old.
She continued: "I think it would be great to bring out another album, maybe with our hits on. It would be lovely to show us performing to a whole new generation.
"But we can't wait too much longer, as we're all getting on a bit!"
It comes after a mini Spice Girls reunion was staged on April 8, as Geri watched her former band mate Melanie C perform at London's O2 Shepherd's Bush Empire.
Mel dedicated the Spice Girls' 1996 hit 'Say You'll Be There' to the 44-year-old beauty.
Geri supporting Melanie came after she and Victoria Beckham ruled themselves out of a reunion of the 90s girl group.
Mel followed in Victoria's footsteps by turning down the chance to join forces with Geri, Emma and Mel B for the 'Wannabe' hitmakers' 20th anniversary comeback, and said it was because of seven-year-old daughter Scarlet.
She previously said: "I had to think about myself and the most important thing in my life, which is being a mother to my little girl. I had to be present for her.
"It was a hard decision, not only letting down the girls but all the fans who want it to happen.
"But we're four individuals, we've gone on to have separate lives and careers and want different things.
"We always said we had to be comfortable but lots of people were getting involved and I wasn't comfortable."
Follow Emirates 24|7 on Google News.