Emma Watson wins first ever genderless accolade at 2017 MTV Movie and TV Awards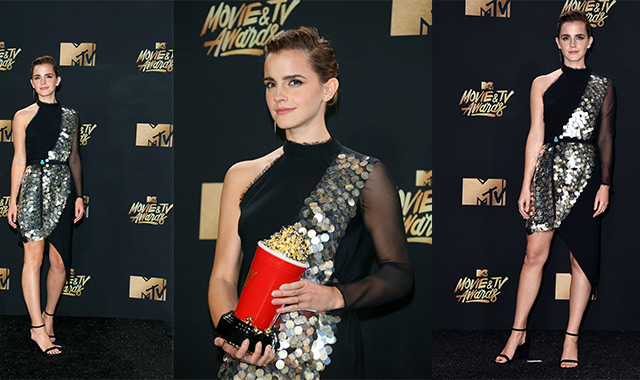 Emma Watson was award the first genderless gong at the 2017 MTV Movie & TV Awards on Sunday.
The 27-year-old actress gave a lengthy speech during which she praised MTV for being the first to introduce the new accolade of Best Actor for both sexes.
The 'Harry Potter' star won Best Actor In A Movie for her portrayal of Belle in 'Beauty and the Beast', which also picked up Movie Of The Year.
She said: "I feel I have to say something about the award itself.
"The first acting award in history that doesn't separate nominees based on their sex says something about how we perceive the human experience. MTV's move to create a genderless award for acting will mean something different to everyone. But to me, it indicates that acting is about the ability to put yourself in someone else's shoes. And that doesn't need to be separated into two different categories."
The blonde beauty - who is an outright feminist - said the award is very "meaningful" to her.
She continued: "Empathy and the ability to use your imagination should have no limits. This is very meaningful to me - both to be winning the award and to be receiving it from you ... in such an inclusive, patient and loving way. Thank you so much."
Emma also believes she won the prize because of her alter-ego Belle, as a character who is the essence of "diversity".
She explained: "[Belle's] curiosity and passion for knowledge and her desire for more in life were ground for alienation.
"I loved playing someone who didn't listen to any of that. I'm so proud to be part of a film that celebrates diversity, literacy, inclusion, joy, and love the way that this one does."
She ended her speech by thanking all those involved in the remake of the classic Disney film - which she starred alongside Dan Stevens in - and the people who voted for her.
She said: "I want to thank every single person who voted for me. Thank you so much.
"Lastly I want to thank anyone and everyone who had anything to do with giving me this opportunity. And, accompanying me on the journey. You know who you are. I can't thank you enough."
Emma beat Hailee Steinfeld, Hugh Jackman, James McAvoy, Taraji P. Henson and Daniel Kaluuya to win the Best Actor prize.
Netflix's 'Stranger Things' picked up Show Of The Year and lead star Millie Bobby Brown was awarded Best Actor In A Show.
The 13-year-old British-born star - who plays Eleven in the series - gave an emotional speech and burst out into tears as she thanked everyone for their support.
She said: "First of all I want to thank everyone that voted and especially MTV ... I want to thank the cast and crew for being my second family, I love you.
"I want to thank my family ... you give me light every day. My mom and dad for being so supportive."
Elsewhere, 'Hidden Figures' was also a big winner claiming Best Fight Against The System and Taraji P. Henson was given Best Hero.
The gong for Best Kiss went to Ashton Sanders and Jharrel Jerome for 'Moonlight' and Hugh Jackman and Dafne Keen picked up Best Duo for 'Logan'.
The event, which was held at the Shrine Auditorium in Los Angeles, was hosted by 'Pitch Perfect' star Adam Devine and featured performances from Camila Cabello, Noah Cyrus, Pitbull and Big Sean.
While presenters included Amy Schumer, Zac Efron and Hailee Steinfeld.
Follow Emirates 24|7 on Google News.