Ambassador of the Republic of Malta visits Mohammed Bin Rashid Library with a book collection gift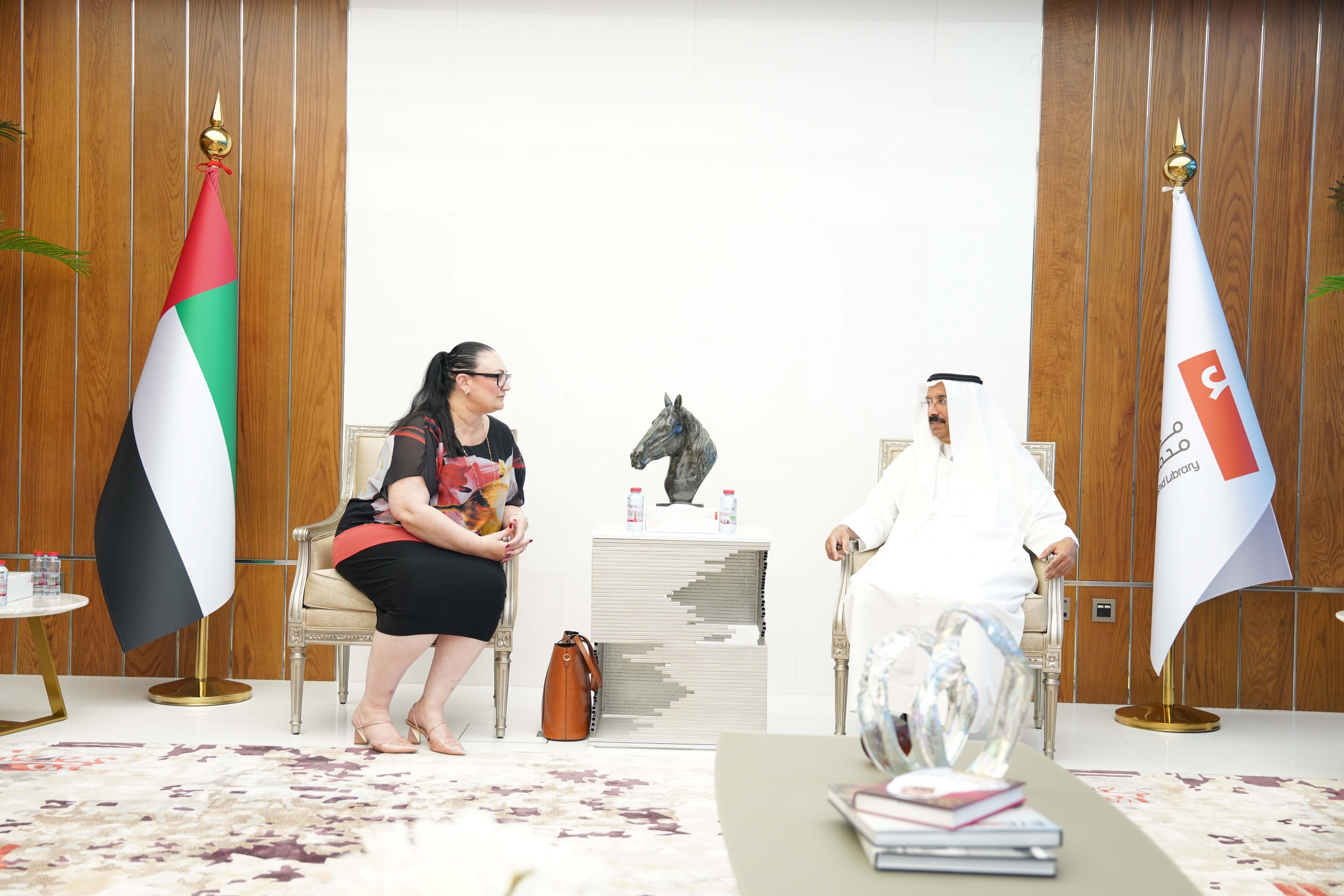 H.E. Mohammad Ahmad Al Murr, Chairman of Mohammed Bin Rashid Al Maktoum Library (MBRL) Foundation, welcomed H.E. Maria Camilleri Calleja, Ambassador of the Republic of Malta in the UAE, to Mohammed Bin Rashid Library to explore its leading experience, state-of-the-art services and facilities, and the thematic libraries that boast a rich and diverse collections of intellectual treasures.
"Mohammed Bin Rashid Library strongly believes in the importance of knowledge exchange, driven by its role to share and preserve knowledge. Thus, MBRL is keen to enhance cooperation and communications across various communities both locally and internationally. Providing books allows us to introduce new generations to the experiences and ideas of creative people from across the world, encouraging them to create ideas and innovations that can advance societies and civilizations," said H.E. Al Murr.
"Books are one of the most important tools for personal growth and knowledge acquisition. They allow us to experiment new concepts and build the future by expanding our horizons and understanding of the world in a more comprehensive and profound way. Undoubtedly, books cannot replace practical experience, yet they give us the opportunity to learn from other people's experiences and avoid making mistakes. Thus, they are a highly effective means to improve our practical skills and achieve our ambitions" Al Murr added.
Her Excellency Ambassador Maria Camilleri Calleja praised the library and the service it is providing to the schools, to the academia and the general public in promulgating knowledge about various subjects, sectors and cultures. She stated that "Books are a fountain of wisdom. No matter how advanced and improved our systems of transmitting knowledge may be, the book will always remain an important mirror in the soul of the writer. It can tell us a story or take us to a far away and through our imaginative experience.
" I wish to praise the initiative of the Government of Dubai to open a National Library. This is a service to the residents of Dubai and the entire United Arab Emirates, as well as a service to mankind." In her statement, Her Excellency also stated that having seen other countries contribute to the book collection at the Mohammed Bin Rashid Library, the Embassy immediately jumped to the occasion to make sure that the collection also includes Maltese publications, which will help readers understand more about the richness of the Maltese Islands and their contribution to art, literature, poetry, architecture and history.
Touring the Library, H.E. the Ambassador explored MBRL's thematic libraries and the premium facilities and services provided to visitors and members, in addition to its cutting-edge technologies, such as artificial intelligence, self-service kiosks, smart robots to answer visitors' enquiries, and the automated warehouse, along with AR, VR, and other advanced technologies.
Concluding the visit, H.E. Maria Camilleri Calleja presented MBRL with a collection of 268 books, commending MBRL's high-quality, technology-based services provided to members and visitors. Calleja also emphasised the Library's significant role in spreading awareness across the UAE's multi-cultural community, highlighting the importance of activating cultural cooperation between the two countries and exchanging expertise in the public library sector.
Follow Emirates 24|7 on Google News.