Arnold Schwarzenegger visits India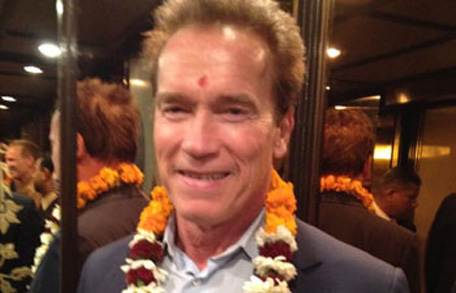 Hollywood action hero and former California governor Arnold Schwarzenegger arrived in Delhi, India, to be the guest of honour at the 4th Panasonic Green Globe Foundation Awards.

Arnold Schwarzenegger will give away the Green Globe Award to Abhishek Bachchan for 'Outstanding efforts in fighting climate changes by a celebrity'.
Schwarzenegger will be staying in the city for just a day and has no plans of exploring the rest of the country.

While Schwarzenegger will be the prime attraction at the event, Abhishek Bachchan will be representing Bollywood at the award function.

Arnold is known for his roles in the Hollywood blockbusters like - The Terminator and Conan The Barbarian.
In his short trip to the couontry's capital Arnold wants to know about a good restaurant. "Does anyone have some good restaurants or other tips?" Schwarzenegger tweeted and also posted a picture saying: "This is how they greeted me in Delhi."
The award has been instituted to recognise the efforts of organisations and individuals fighting climate change through their work in environment preservation and regeneration.
Follow Emirates 24|7 on Google News.