BIGG BOSS 6 Final Countdown: 5 days to go... Urvashi declared Empress of the Day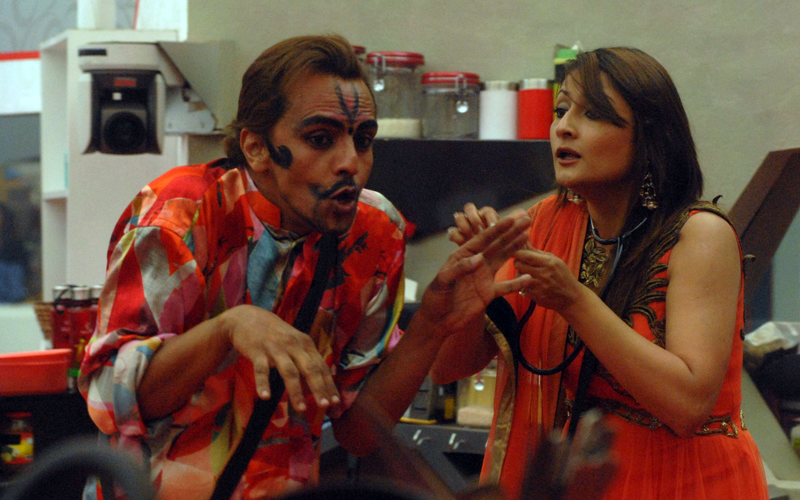 As the day began in the Indian reality show Bigg Boss, Imam Siddiqui was seen speaking to the camera. He thanks Bigg Boss for letting go the task that was given during which the contestants had to be up all night.

Soon, after the wake up alarm, Rajev Paul wore his microphone again after having been pacified by Delnaaz Irani.

As the day passed, Niketan Madhok warned Urvashi Dholakia to stay away from Imam since he is a dangerous man.
Soon, Bigg Boss announced a task where each day, one of the contestants would be made the 'Ek Din Ka Baadshah' in house.

Urvashi was made the baadshah for the day, and while she does no chores in the house, she orders the housemates to do various tasks. As everybody was preparing for the task, Imam did special make up and made arrangements for Urvashi to feel like a Princess.

In the evening, Imam was seen taunting Rajev and about Sana Khan. Rajev lost his cool over this and Urvashi asked Imam not to disturb Rajev when he is in the midst of reciting a poem.

Bigg Boss then announced the 'Chahe koi mujhe pagal kahe' task. Sana, Rajev, Niketan and Imam were the patients, Urvashi was a doctor and Delnaz the matron.

Rajev then went to have a word with Imam stating that Imam will not hinder and do anything to put him down during the task, but Imam shood him away.

The task came to an end in the night and Urvashi was asked to choose one housemate whose performance was not convincing.

Without giving it a second thought she picked Imam and blamed him for not starting the task on time.

Post the task, Delnaz-Sana-Rajev discussed Imam's act, while Imam was having a monologue wherein he felt he performed better than the others.

As the day ended, Urvashi told Niketan that Imam has not done any task with perfection in the house and that he needs to play his game well now.
MUST READ:
The Wedding Party: Aishwarya Rai, Abhishek & Amitabh Bachchan dance on the street
Kanye West to Bollywood's biggest: Where to go celeb spotting in UAE this month
'Happy New Year': Shah Rukh Khan, Priyanka Chopra are back
Break-up effect: Selena Gomez upset; Justin Bieber visits cancer patient
Follow Emirates 24|7 on Google News.