Charlie Sheen could lose studios $250 million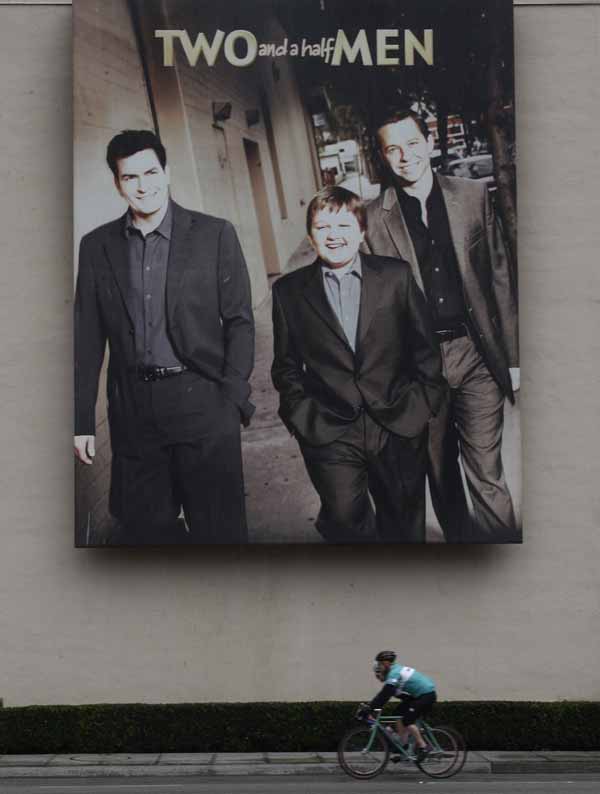 As Charlie Sheen heads back to a rehabilitation facility, weeks of salacious headlines are now giving way to a steep financial price for the star's behaviour.
In fact, sources tell The Hollywood Reporter that if "Two and a Half Men" is forced to shut down permanently, it could jeopardise as much as $250 million in domestic syndication revenue for producer Warner Bros Television and millions more in lost ad revenue for CBS.
In its eighth season, "Men" remains the most-watched comedy on television, averaging 14.7 million viewers, and is second only to ABC's "Modern Family" among the ad-coveted younger demographic of 18-49-year-olds. CBS sells 30-second spots in "Men" for more than $200,000, according to media buyers, generating more than $3 million per episode. Kantar Media reports that the show grossed CBS more than $155 million in ad revenue last season alone.
And "Men" also is the network's linchpin on Monday nights, helping to launch successful comedies including "The Big Bang Theory" and most recently "Mike & Molly" (both from "Men" co-creator and executive producer Chuck Lorre). There are currently only two new episodes of "Men" that have not yet aired, and while CBS will save on license fee if production remains shut down, the loss of new "Men" will certainly impact the overall performance of its Monday night lineup.
In a statement on Sunday, CBS again expressed concern for Sheen's well-being but sought to distance the network from any potential deleterious effect of the actor's behaviour.
"Looking forward, the financial impact of the shutdown is not material to CBS," the statement said. "Any ratings declines will be more than offset by the reduced programming costs for episodes lost this season. We will begin to address the scheduling issues this week. The network is strong and deep with hit series; we're not reliant on one show. In addition, 'Two and a Half Men' has always performed well in repeats, and we have the option of ordering additional episodes of other popular comedies on the network."
At this point, the final two new episodes are scheduled to air Feb. 7 and 14. (The first is fittingly titled "Three Hookers and a Philly Cheesesteak," according to the CBS schedule.)
For Warner Bros. Television, the stakes are arguably higher. Domestic syndication deals are on tap to bring in nearly $2 billion for the first two syndication cycles that extend through the 2020-21 season. That's in addition to foreign and DVD sales revenue.
Sheen signed a new two-year deal reportedly worth close to $2 million per episode for Seasons 8 and 9. But no one knows how long the actor will stay in rehab this time. (A stint last year barely interrupted the show's production schedule, with "Men" finishing Season 7 with 22 episodes rather than the planned 24). If Sheen's well-documented demons force a shutdown for the remainder of the current eighth season as well as the ninth season, industry sources estimate that Warner Bros., which has already packaged those seasons on current syndication deals, could lose as much as $250 million. Warner Bros. declined further comment Sunday.
But the studio might soon have to re-examine those rich syndication deals. WBTV first sold "Men" in syndication to Tribune Broadcasting and Sinclair Broadcast Group in 2006 for license fees of about $2 million in cash and an additional $2 million per episode in barter advertising, sources said. Last year, reruns also began airing on FX for another $850,000 per episode. Today, "Men" is the No. 1 syndicated comedy in households and the 25-54 demographic.
"It's one of the greatest success stories ever in syndication," one industry insider said. "It's just an enormous hit. It's been so exposed and yet it continues to do so well."
That's why in November, the companies announced a second cycle of that deal extending through the 2020-21 season and encompassing the current eighth and ninth seasons of the show. And while Warner Bros. still has more than seven seasons of "Men," the potential loss of 32 episodes off of that deal, or a license period about 12 months shorter, is not insignificant.
There also is the future syndication revenue that will be left on the table if the show ends this season. "Seinfeld," which finished its run in 1998, continues to perform well in syndication, and has reportedly racked up close to $3 billion in domestic syndication so far. In making the announcement about the second-cycle syndication deal for "Men" in November, Sean Compton, president of programming for Tribune Broadcasting, alluded to the future prospects of "Men."
The show, Compton said, "was an immediate game-changer that significantly elevated the performance of our stations, and we have never looked back. This is one of those rare shows -- like 'Friends' and 'Seinfeld' -- that will continue to deliver for decades."

Follow Emirates 24|7 on Google News.