Madonna dazzles in Super Bowl half-time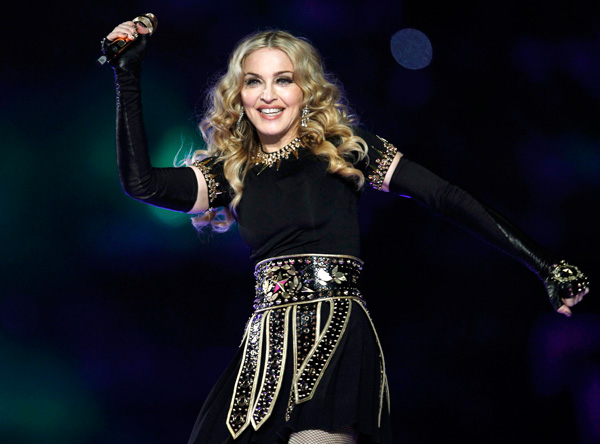 Madonna on Sunday dazzled the Super Bowl crowd with an high-octane half-time show that started with an army of Roman gladiators and ended with plea for world peace written in lights.
The glittering 12-minute performance at Lucas Oil Stadium featuring several guest stars had legions of fans racing to Twitter to give their thumbs-up, with some going so far as to declare it one of the best in Super Bowl history.
"Now THAT was a halftime show!" said àmichaelsette7 of Toronto in a typical tweet of approval. "All hail the queen. Bow down everyone, bow down!"
Entertainment Weekly critic Ken Tucker agreed, calling Madonna's performance "joyous, unironic, open-hearted ... She was both in full command and full of generosity towards her massive audience."
With a new album titled "MDNA" out March 26, the 53-year-old Madonna teamed up with choreographer Jamie King and Canada's Cirque de Soleil for the most-watched musical interlude of any major sporting event in the world.
Her challenge was to redeem last year's dismal showing by the Black Eyed Peas, whose futuristic performance failed to impress spectators already put out by Christina Aguilera botching the lyrics of the US national anthem.
With muscular spear-wielding gladiators in gold marching onto the field, Madonna -- styling herself as a Roman empress with a diamond-studded crown and kinky thigh-high boots -- kicked off the show with her 1990 dance hit "Vogue."
She then shifted into hip-hop mode, bringing out breakdancers -- and an impressive tight-rope walker -- for "Music" from 2008, accompanied by electro duo LMFAO who sampled their 2011 hit "Sexy and I Know It."
Rap queen Nicki Minaj and irreverent M.I.A. then joined Madonna for the just-released "Give Me All Your Luvin" set to a "Glee"-like cheerleader theme, complete with golden pom-poms and marching band.
In a blink-and-you'll-miss-it moment, M.I.A. -- real name, Mathangi "Maya" Arulpragasam -- flipped a middle finger to the camera while singing a four-letter word that is part of "Luvin"'s original lyrics.
The image on the screen then scrambled just as briefly, suggesting that NBC television -- the official broadcaster of this year's Super Bowl -- was caught off-guard.
For the finale, Madonna rolled out her 1989 hit "Like A Prayer" with crooner Cee-Lo Green, a black-robed gospel choir and the stadium illuminated with thousands of tiny lights, concluding with the words "world peace" set against the darkness of the field -- and Madonna disappearing in a puff of smoke.
Half-time at the Super Bowl has been one of the most coveted gigs in American pop music since the late Michael Jackson performed with a 3,500-child choir in 1993, but hit a bump with his sister Janet Jackson's infamous "wardrobe malfunction" in 2004.
"This is a Midwestern girl's dream to be performing at the half-time show," said Madonna, a Michigan native, prior to Sunday's show.
Performing the national anthem before kickoff was "American Idol" winner Kelly Clarkson, with country stars Blake Shelton and Miranda Lambert adding to the patriotic mood with a duet version of "America the Beautiful."
Follow Emirates 24|7 on Google News.