Neither Salman nor Shah Rukh: Anushka Sharma is loyal to her work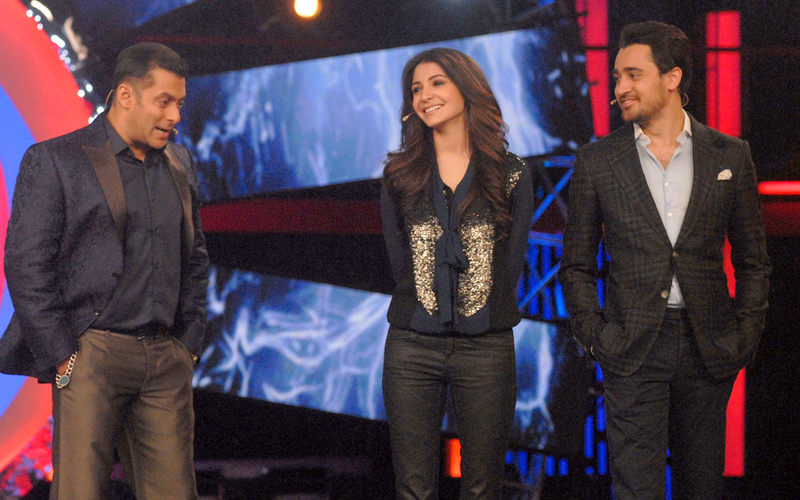 Contrary to reports emerging in Indian newspapers that Bollywood actress Anuskha Sharma is ignoring actor Salman Khan; the lady has disregarded all such rumours visiting the Bigg Boss set to promote her upcoming movie 'Matru Ki Bijlee Ka Mandola'.
Anushka was accompanied by co-actor Imran Khan and seemed comfortable around the host - Salman Khan.
The host was his jovial self when he has guests on the set and was no different to Anushka. They had a good time taking pot shots at each other.
Imran and Anuskha also gifted Salman a bottle and a t-shirt. Salman let them also talking about their forthcoming film directed by Vishal Bradwaj. All these while Anushaka kept flashing her million dollar smile and her pearly white.
Later Imran and Anushka entered the Bigg Boss house and interacted with the contestants.
All eyes were strained on the actress to see how she handles this close proximity with Salman, considering she is touted to be a member of Shah Rukh Khan camp.
Earlier there were reports that during a recent awards ceremony, Anushka was not very comfortable around Salman.
In fact, when her co-star Imran was speaking to Salman backstage, Anushka chose to make herself scarce.
Salman and she didn't even acknowledge each other's presence; even Imran chose not to introduce her to Salman. Moreover, when rumours of her being in Sajid Nadiadwala's 'Kick' opposite Salman surfaced, she has chosen to deny them saying that she was never approached.
Anushka made her debut opposite Salman's arch rival Shah Rukh Khan and also had a recent release 'Jab Tak Hai Jaan' with SRK.
She might not have chosen to get in to any camps but the industry has clearly branded her as someone close to SRK.
But the utter professional Anushka Sharma not only went to Bigg Boss to promote her movie but also interacted with Salman under immense scrutiny.
The actress has obviously showed no sign of reservations towards any camp (at least in front of the camera) when it comes to promoting her work.
MUST READ:
Salman Khan may miss Sharjah match as Bollywood takes to the field
Katrina Kaif, Ranbir Kapoor caught celebrating New Year together
Panic in Brad Pitt, Angelina Jolie home; police rush to rescue
Follow Emirates 24|7 on Google News.